Clothing store opens in Bow Island
Posted on December 13, 2016 by 40 Mile Commentator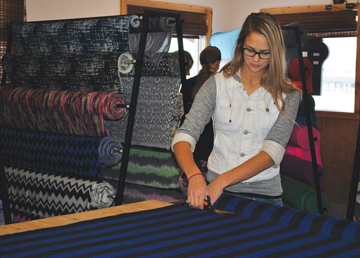 Photo by Jamie Rieger- Judy Martens cuts fabric for a customer at Corner Fashions, a new clothing a fabric shop that recently opened in Bow Island.
By Jamie Rieger
What started as a restaurant renovation project has turned into a new clothing store for Bow Island.
Henry Martens, proprietor of Corner Fashions, said that when he first purchased the building that was once a restaurant in town, his plans were to renovate and then resell it as a restaurant.
"We fixed it up as a restaurant and wanted to resell it as one, but that didn't happen," said Martens, who did the renovations last winter.
The new clothing store includes women's, men's, and children's clothing, as well as lots of fabric for people who like to sew their own garments.
Corner Fashions has been open about five weeks and Marten said that so far, business has been good.
The work is not finished however as they plan on including Mexican food items on one side of the store in the near future.