Christmas Comes to Lone Star Gulch at CCCA
Posted on December 20, 2016 by 40 Mile Commentator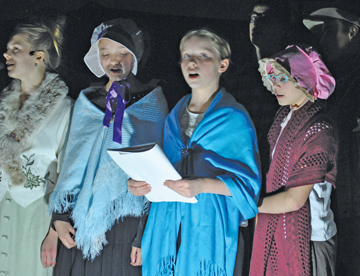 Photo by Jamie Rieger- There was lots of carol-singing at the annual Cherry Coulee Christian Academy's Christmas concert last week.
By Jamie Rieger
Cherry Coulee Christian Academy students donned costumes from the old west when they performed Christmas Comes to Lone Star Gulch at their annual Christmas concert on Dec. 15.
The junior high students acted out scenes from the play, which had the people of the little community meeting at the Town Square a week before Christmas, and again at dusk on Christmas Eve. The villagers, who were in the Christmas spirit, congregated and sang songs, much to the chagrin of shopkeeper Johnson (played by Jason Duffhues), who was always tired and grumpy.
The villagers sang on, despite his grumblings and the audience was also treated to a special singing performance by Judy Bergen and Judy Bueckert.
The cast included Duffues as Shopkeeper Johnson, Peter Buecker as Mr. Mayor, Jessikah Babe as Mrs. Mayor, Nathan Vandergaast as Sheriff Duke, Benny Bergen as the Parson, Martha Loewen as Becky Jones, Curtis Duffues as Tom Pickens, and Travis Bergen as Little Joshua.
The elementary students, Kirsten, Jaxon, Lenert, Nathan, James, Judith, Spencer, Tabea, Joanna, Paulina, Julia, Danny, Heidi, Ciandra, and Adam. were characters for the Nativity scene and also sang songs. Songs for the evening included: The First Noel, O Little Town of Bethlehem, Joy to the World, Silent Night, and others.