I.F. Cox students sing in the season with annual carol festival
Posted on December 20, 2016 by 40 Mile Commentator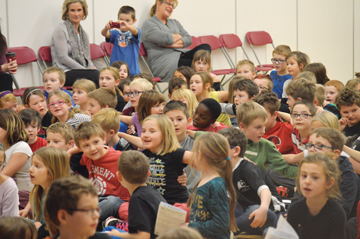 Photo by Tim Kalinowski - I.F. Cox School in Redcliff, held its annual Caroling in the Park event last Wednesday. Due to cold weather, it was held indoors in the school's gym. The students still sang with gusto, regardless.
By Tim Kalinowski
I.F. Cox students presented their annual Caroling in the Park concert for Redcliff residents last Wednesday afternoon. The event was held inside this year in the school's gym due to the frigid temperatures outside, but that did not diminish the gusto with which students delivered their singing performance.
Students danced, jumped and locked arms and swayed in motion as they belted out well known Christmas Carols like "Frosty the Snowman," "Jingle Bells" and the "12 Days of Christmas."
This was the first ever Christmas concert at I.F. Cox organized by new music teacher Ron Mason, and he appeared to be really getting into it playing a strong accompaniment to the students on his guitar and for one song on his mandolin. He laughed as the students enthusiastic energy washed over him, and everyone from the community who came out to watch the event.
The students were in good voice, and appeared to be having a blast.
For the final song of the day, "The 12 days of Christmas" students jumped to their feet sang along to a prerecorded version using various mimed actions to accompany the singing. It was an exciting conclusion to a wonderful concert experience.