St. Mike's Christmas program
Posted on December 20, 2016 by 40 Mile Commentator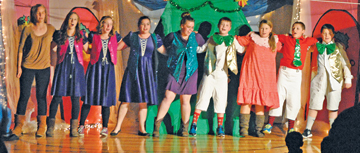 Photo by Jamie Rieger - Dancing and singing were all part of the fun at the St. Mike's Christmas program last week.
By Jamie Rieger
The Grinch had the crowd in stitches at the St. Michael's School Christmas program on Dec. 15 when the St. Michael's Glee Club performed Dr. Seu
ss's How the Grinch Stole Christmas.
Dawson Pahl did a brilliant performance as the Grinch, as did Adrianna Van Tryp as the more-subdued Max the Dog.
The cast for the play included Meredith Van Roessel, Olivia Van Tryp, Alexa Kielstra, Lauren Lodders, William Van Es, Brittany Young, Kaycee Schlachter, Holly Waldbauer, and Jawna Miller. Piper Ell, Carson Cleaver, Sam Reuser, and Everett Van Typ were also part of the cast.
Musical performances for the evening included: C-H-R-I-S-T-M-A-S, performed by the Kindgarten and Grades 5/6 students; Where Are You Christmas by the Grades 3/4 and 5/6, and a host of other Christmas carols for the guests in the packed house.