RES optimistic about Forty Mile Wind Power project
Posted on December 27, 2016 by 40 Mile Commentator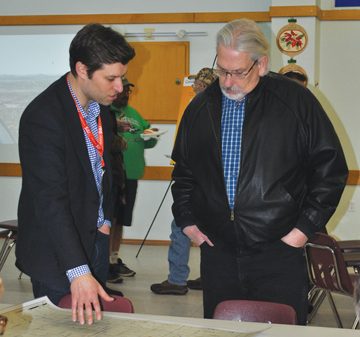 Photo by Jamie Rieger - Luca Reindler, RES project manager for the proposed Forty Mile Wind Power project, shows Bow Island mayor Gordon Reynolds a map outlining the geographic area of the project at an open house on Dec. 14.
By Jamie Rieger
A recent open house in Bow Island was one more step for an alternative energy company in the lengthy process of having its proposed project approved by the provincial government.
Being proposed in the Forty Mile Wind Power Project are approximately 150 turbines, encompassing 50,000 acres in the County of Forty Mile, of which 500-1000 acres would be used for turbine foundations, roads, and other infrastructure. The project would have the capacity to generate up to 400 megawatts of wind power.
Lucas Reindler, project manager for Renewable Energy Systems said the project is ready to push forward with approvals and is hopeful it will win a competition by the AESO (Alberta Electric System Operator).
Criteria for the competition are that the project will procure up to 400 MW of renewable electricity capacity, must be operational in 2019, is applicable to new or expanded projects, must be equal to or greater than 5 MW, must meet the Natural Resources Canada definition of renewable energy, and must utilize the existing transmission and/or distribution system.
"We are very confident about this project. We meet all of the important criteria; we have the wind here, we have the transmission lines, and we have great community support," said Reindler, adding that Forty Mile Wind Farm project would be operational in 2019.
Reindler said people attending the open house expressed concerns about wildlife studies, layout of the project, and what the next steps would be.
"There are still people with concerns and that is exactly why we are having this open house, to introduce people to the project who may not have heard about it yet," he said.
The AESO, through its Renewable Electricity program is planning to have an additional 5,000 MW of renewable energy capacity on the system by 2030.