A glimpse back to 2016 at Commentator
Posted on January 4, 2017 by 40 Mile Commentator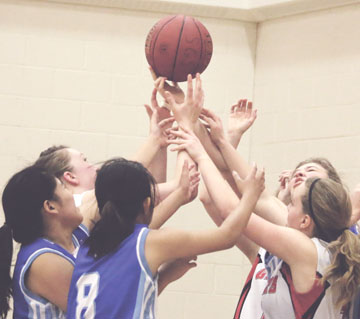 Photo by Jamie Rieger- The editor picks this photo from the final Senator Gershaw girls' basketball of the season as her favourite photo of the year.
By Jamie Rieger
The Forty Mile County Commentator takes a glimpse back into the happenings from throughout the past year; a year filled with turbulance, uncertainty, and change; but there were some noted highlights in 2016, as well.
JANUARY
The Serack family started 2016 on a happy note when their two-year-old son, Creedon had a mass removed from his tongue and they learned it was not malignant. Creedon was born with lymphangioma, which has resulted in many trips to the Children's Hospital in Calgary.
Independent safety consultant, Jonathan Hamon met with County of Forty Mile council to answer questions about Bill 6, the Enhanced Protection for Farm and Ranch Workers Act, which had just passed third reading in Legislature.
The Montana State Fish and Wildlife commission, in a vote of 3 to 1, approved relocating 40 Greater sage grouse hens to locations in Alberta that lie within 40 kilometers of the international border. The move was the first of three phases that would possibly see up to 120 sage grouse to southeast Alberta.
Bow Island's Lyn Degenstein was named Hockey Alberta's coach of the month for his dedication to coaching local kids and to the Bow Island Minor Sports Association.
A report by the University of Alberta Land Institute suggested that compensation for grazing leaseholders is a legal right, particularly when there is industrial activity on grazing dispositions. The report also indicated that the grazing rights process needed re-evaluation.
Bow Island's Vance Fode signed onto the Thompson Rivers University Wolfpack baseball squad. Coach, Ray Chadwick said Fode was selected for his power-hitting ability.
FEBRUARY
Alberta premier Rachel Notley announced that there would be few changes to the province's royalty framework after causes a stir throughout the energy industry when she said changes were on the horizon. In her announcement, Notley said that any changes that were to take place would only apply to new wells and would take effect in 2017.
After more than four years for working to have crossing arms installed at the Centre Street crossing in Bow Island, CP Rail finally had them installed. Total cost of installing the crossing arms was $318,000, with the Town of Bow Island contributing 12.5 percent, or $43,000.
A few dozen people gathered at the Bow Island and Burdett District Chamber of Commerce annual general meeting to take in a fraud presentation by RCMP Cst. Matt Kennedy. Telephone scams from people claiming to be from the Canada Revenue Agency was the top issue discussed.
The Canadian Natural Resources Limited and Cenovus Energy submitted an article to the Commentator about encouraging open dialogue on pipelines. The article focused on the Trans Mountain pipeline project, Canada's over-dependence on the United States as the industry's only major customer, and assessments that indicate Canada is losing out on billions of dollars in revenue because of a lack of access to overseas markets.
A strong El Nino system was still hovering over southern Alberta in February, resulting in very low levels of snowpack, with indications that the effects of the warm weather phenomenon.
MARCH
Well testing had begun on Well #1 and production testing for Wells #2 and 3, Luke Schoening, project manager for the for the regional water system project that will see a water being conveyed from Foremost to Manyberries, Etzikom, and Skiff. Schoening also said nine wells would be needed for the flow in the 25-year design.
The Canadian Press announced that a state funeral for former Alberta premier Don Getty was scheduled for March 5 in Edmonton.
Suncor Energy held an open house in Bow Island for the public to learn about their proposed wind energy project.
Palliser Economic Partnership embarked on a study looking at how to bring affordable high-speed Internet to rural areas of southeast Alberta after the mayors and reeves of southeast Alberta requested PEP study the possibility of having a regional rural broadband system put in place. The study was expected to be completed by the end of June.
Modernization at Burdett School was top of the Prairie Rose School Division's wish list, when trustees approved their three-year capital plan.
Constituents in the Medicine Hat-Cardston-Warner riding were shocked to learn that MP Jim Hillyer had passed away suddenly of a heart attack in his Ottawa office. Political figures from across Canada paid tribute to Hillyer, who was remembered as an honourable family man with a passion for public service. Hillyer's passing led to a fall by-election which was won by Medicine Hat's Glen Motz.
APRIL
St. Mary's River Irrigation District announced farmgate water allocations for producers who would be allocated 16 inches for the growing season. SMRID general manager Terrence Lazarus said the decision was made to avoid water waste and improve usage.
Foremost's Garret Hughson finishes his final season with Brooks Bandits on a high note. The goaltender had a stellar season with the Bandits, going 14-3, with three shutouts, a 2.23 goals against average, and a .918 save percentage in 17 regular season play.
The community mourned the loss of one of their finest residents when Ron Lane passed away in April. Lane had retired from municipal politics in 2013 after serving as a councilor for the County of Forty Mile to dedicate more time to his family and his hobbies. Lane was remembered as a thoughtful person and was often the voice of reason in the council chambers.
It came as no surprise to many Albertans when the Alberta government released its budget for 2016-19 in April. Finance minister Joe Ceci announced the deficit for 2016 to be $10.4 billion, $10.1 billion for 2017, and $8.4 billion for 2018. In addition to spending its $3.8 billion Contingency Fund, the NDP government made plans on borrowing $5.4 billion for operations. It was then forecast that by 2019, Alberta would be $58 million in debt.
Bow Island mayor Gordon Reynolds responded to the budget announcement by saying in a submitted article that the announcement was not as harsh of a blow as was expected, but did not know what the full impact would be until further announcements would be made from the province.
Bow Island RCMP officer Cst. Elliott Teed was charged with one count of sexual assault and two counts of breach of trust, with a court date initially set for May. By year end, the case was still before the courts.
MAY
Rail Safety Week was proclaimed in Bow Island and across the country as CP Rail and the Canadian Pacific Police Service launched their national campaign to promote safety at rail crossings.
The urgent need for new infrastructure was among the topics discussed when Jeff Gaulin, vice president of Communications for the Canadian Association of Petroleum Producers addressed the Lethbridge Chamber of Commerce. Innovation and importing oil from other nations to eastern provinces were also discussed.
Bow Island, Foremost, and surrounding communities were generous with their donations when the wildfires devastated Fort MacMurray. Tony Isaac of Truco Structures immediately went into action, putting his staff on disaster relief duty, and through his charitable foundation, In2Action, contributed more than $10,000. Truckloads of food items and other merchandise were swiftly sent up to Fort Mac by Rosenau Transport, who donated trucks and trailers.
Four Foremost area women were featured in one of several short films produced for The Grasslands Project, a project that gave a glimpse into the lives of folks living in small, rural communities in southern Alberta and Saskatchewan. Joan Hughson, Bonnie Pearson, Larei King, and Lee Harty all attended the premiere at the Foremost Community Hall.
Seeding for the Westfield Community growing project took place in a few short hours in May. The crop would be harvested and donated to the Canadian Foodgrains Bank.
JUNE
Don McKinnon, a population ecologist for the Centre for Conservation and Research – Calgary Zoo, did little to help matters when he spoke at the Sustainable Canada Association's annual general meeting in May. Too little information along with explanations of the program's mistrials, including fatalities of the sage grouse left many in the audience with more questions than answers. Joel Nicholson, senior wildlife biologist for Alberta Environment and Parks, gave a comprehensive overview of the Greater sage grouse in the Manyberries area and the program that saw sage grouse hens being relocated from Montana.
Members of the Royal Canadian Legion Bow Island Branch 197, dignitaries, and local people proudly marched from the Island Market to the Legion to commence the 70th anniversary celebration for the local legion.
County of Forty Mile council discussed illegal burning at their June 8 meeting after an area resident was found burning items that do not comply with county or province bylaws. According to municipal enforcement officer Stewart Payne, approximately 1,000 chemical jugs were found in a burn pit that had been lit.
Wildrose Party leader Brian Jean spoke about the economy, carbon tax, and climate change when he spoke at the Southern Alberta Council on Public Affairs luncheon in June.
County of Forty Mile councilor Chantel Timmons, who had recently attended a Highway 3 Twinning Development Association meeting, told her fellow councilors that the provincial government would be providing $10,000 for updating a cost-benefit analysis of the 2001 Van Horne study that looked at the possibility of twinning the east-west corridor.
Reeve Bryne Lengyel also indicated that Highway 3 was being considered as a "future project" for Alberta Transportation.
Former Medicine Hat Police inspector Glen Motz easily won the Conservative Party of Canada's nomination for the Medicine Hat-Cardston-Warner riding.
Jet ski races returned to Rattlesnake Lake since 1995 when the season opener for the Western Canadian Watercross Association was held there in June.
JULY
Orion and Manyberries were the places to be over the Canada Day weekend when the two communities held their Centennial celebrations and people came from far and near to take part in the festivities.
The Troy Loney charity golf tournament raised $90,000 for a solarium project at the Susan Andersen Library. Loney and fellow local hockey hero, Carson Cooper were the celebrity guests at the fundraiser.
In an interview with the Commentator, Cooper talked about his time studying and playing hockey for Yale University and was enjoying some time at home before going to France to play for the Club des Sports sur Glace in Strasbourg.
Friends and family of Gladys Hodgson gathered at the Golden Age Centre to help her celebrate her 105th birthday.
AUGUST
August began with the HALO Rescue Helicopter organization continuing to wait to see if the provincial NDP government would step up and provide some financial support for them. Other than providing the paramedics through Alberta Health Services and paying a small per-call stipend, the Alberta government does not provide any financial support to HALO. Chair Dale Thacker told the Commentator that calls for the rescue helicopter were increasing and they were continuing to negotiate with the government for financial support.
A Bow Island RCMP officer sustained minor injuries when it was involved in a collision at the junction of Highway 3 and Township Road 120 on Aug. 2. The driver of a courier truck was charged with making an unsafe left turn onto the highway.
The South East Alberta Watershed Alliance were busy last summer, working on integrating their water management plan with the South Saskatchewan Regional Plan and on expanding their community engagement program.
County of Forty Mile utilities officer, Stewart Payne met with engineers for the regional water project in early August and provided an update to council about the wells, including the placement of Wells 7 and 8.
The search continued in August to find a physician for the Bow Island area. County of Forty Mile councilor Gerald Reimer, who sits on a doctor recruitment committee, told his fellow councilors that two prospective doctors had recently visited the area.
Local cowboy Tyler Mitchell was having a successful rodeo season with his steer riding. Mitchell qualified for the Chinook Rodeo Association finals. Mitchell said that following a thumb injury early in the season, he started to win events and earn a few bucks for his efforts.
The Insurance Bureau of Canada announced in August that severe storms in southern Alberta and Saskatchewan had resulted in close to $65 million in insured damage.
SEPTEMBER
LGX Oil and Gas walked away from a $392,000 tax bill owed to the County of Forty Mile, one of many municipalities across the province to see similar circumstances. The Alberta Association of Municipal Districts and Counties was collecting data on the impact which would be presented to a government working group that included the Alberta Energy Regulator, Alberta Education, and Alberta Municipal Affairs.
Municipal Affairs defined the parameters of in-camera sessions, it was reported in September and indicated that changes had been proposed through Bill 20 , the Municipal Government Amendment Act.
A bountiful harvest was expected for a field of durum when the combines took to the field for the Westfield Growing project harvest.
After years of hard work and commitment, the first load of grain rolled out of Foremost via the Forty Mile Rail Line. The venture has been one that had been the vision of a group of local producers for several years. At the time of its opening, Forty Mile Rail Line had more than 100 shareholders and could accommodate approximately 400,000 acres of production.
Cherry Coulee Christian Academy held an official grand opening at the end of September to officially celebrate their new classrooms.
OCTOBER
A workshop to help people understand different cultures was held at the Multiplex in Bow Island to prepare for the possibility of welcoming a physician from outside of Canada to the community.
A motorist who killed a woman while driving impaired and at high rates of speed was sentenced to three years in jail. Gerhard Friesen, 43, pleaded guilty to the charge of impaired driving causing death in the collision that caused the death of 62-year-old Karen Yoos.
A special birthday party was held at Pleasant View Lodge in October for Mary Ell, who turned 106 years old. Ell was surrounded by family and friends for the celebration.
Mark Smith, shadow education minister for the Wildrose Party paid visit to Cherry Coulee Christian Academy in October, meeting with school administration to gather information about successes and challenges the school faces.
Alberta and the Canadian political community were shocked when they learned of the sudden, tragic passing of former premier Jim Prentice, who died in a plane crash near Kelowna in October. Prentice was remembered as being a hard-working public servant who dedicated much of his political career to land, environment, energy, and First Nations issues, and was often thought to be the much-needed bridge between them.
Alberta Health Services announced in October that the province's fee-for-service commitment to HALO would remain unchanged, despite ongoing efforts by the organization to receive financial support from the provincial government.
Forty Mile Rail held an official grand opening for its short-line rail that began hauling grain between Foremost and Stirling a few weeks prior.
Conservative candidate Glen Motz easily won the Medicine Hat-Cardston-Warner riding on Oct. 24 in a by-election for the constituency that had been vacant since the passing of MP Jim Hillyer in March.
Bow Island councilor Alan Hyland was honoured with the Municipal Affairs distinguished long-service award in October. Hyland received the award from Lisa Holmes, president of the AUMA.
Foremost also received an award from the AUMA, receiving the Municipal Sustainability in Action award for its work with the Foremost Unmanned Air Systems Range.
NOVEMBER
Burdett School students learned about off-road vehicle and snowmobile safety when Lori Zacaruk from the Alberta Snowmobile Association gave a presentation.
After a lengthy process, the Foremost UAS range finally received its beyond-line-of-sight (BLOS) approvals from Transport Canada, giving them the go-ahead to begin moving forward with BLOS testing.
Local Royal Canadian Legions, through their annual Poppy campaign, give back to various organizations in the community. In November, the Foremost branch donated $3,559 to the Foremost fire department to help with purchasing new medical equipment.
Burn permits were once again the hot item on the agenda at the County of Forty Mile council meeting. Stacy Harty, a delegate at the meeting, asked councilors for clarification on what can and can not be burned according to county bylaws. Stewart Payne, municipal enforcement officer for the county, said the bylaws were written under the guidance of the Alberta Forest and Prairie Protection Act. Council agreed to look at definitions within county bylaws and elected to re-address the issue at a future meeting.
Both girls' and boys' volleyball teams from Senator Gershaw won their zone titles, setting the tone for the provincial championships being held in Bow Island, starting on Nov. 24.
County of Forty Mile administrator, Dale Brown received the R.W. Hay award at the AAMDC convention in Edmonton in November. Brown was recognized for his 43 years of service to the county.
The Senator Gershaw boys' volleyball team captured silver in a hard-fought gold medal game against the Ecole Mallaig team, ending a very exciting provincial championship, held in Bow Island.
DECEMBER
Jan and Anne Marie Jonker were crowned the 2016 Beet Kings at the 52nd annual sugar beet banquet, held at the Burdett Community Hall. The Jonkers produced 35.43 adjusted acres per tonne. Despite some concerns during the growing season, growers in the Burdett/Bow Island area had some impressive yields.
Many Albertans were pleased to learn in December that the provincial government announced it would be introducing a dental fee guide, making it easier for people to shop around for affordable dental services. Until now, Alberta was the only province in the country without such a plan. A dental fee review determined that Albertans can pay as much as 44 percent more for some dental work and have seen a 56-percent increase in dental fees over a 10-year period.
The year ended on a very somber note when it was learned that Stevens Hardware and Garage and burned down on Christmas Day, with owner Boyd Stevens recovering in a Calgary hospital. There were no further updates as of press time on Jan. 2.