More learning opportunities available through Shortgrass
Posted on January 17, 2017 by 40 Mile Commentator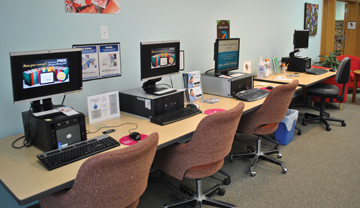 Photo by Jamie Rieger- Patrons of all 14 libraries within the Shortgrass Library System can now take online courses through a new program that was announced last week.
By Jamie Rieger
Library patrons in southeast Alberta looking to take an online course now have an economical and convenient way of enrolling in a course through their local library.
Shortgrass Library System announced last week that it has acquired Gale Courses from Gale, part of Cengage Learning. The program allows library patrons access to instructor-led, online courses through the websites of all 14 public libraries in the region and is free to those who have a library membership.
"Part of our mission at Shortgrass Library System is to support our member libraries in providing lifelong learning opportunities in their communities," said Petra Mauerhoff, CEO of Shortgrass. "With Gale Courses, residents within the Shortgrass region are able to enroll in courses covering all types of topics and subjects. Whether someone is considering going back to school to pursue a degree or interested in digital photography as a hobby, the extensive course catalog offers something for everyone."
Hundreds of courses are available through the program, including health and wellness courses, creative writing, computer programming, and GED test preparation, among others.
Kathryn  Van Dorp, manager of the Susan Andersen Library in Bow Island said she is excited about this program will have many benefits to people in rural areas.
"I am very excited about this. It will benefit our community, especially for those who can't afford these courses," said Van Dorp. "Courses aren't always available when you want them to be, so this will help our rural areas."
Gale Courses are developed by expert instructors, many of whom are currently working at universities around the country, and the courses have continuous enrollment dates.
Patrons can enroll at no cost. Courses run for six weeks and are comprised of 12 lessons in total, with two new lessons released weekly and new sessions beginning every month. The courses are entirely web-based with comprehensive lessons, quizzes and assignments.
A dedicated professional instructor coordinates every course by pacing learners, answering questions, giving feedback, and facilitating discussions.
"We believe that this new learning resource is a perfect fit for public libraries, which are community spaces accessible to all and have always provided opportunities for personal growth and learning. Gale Courses allow anyone to upgrade their professional skills or explore a new hobby, for free with their library card," said Shortgrass Library System Board Chair Dwight Kilpatrick.
Anyone living in southeastern Alberta with a valid library card from any of the 14 Shortgrass member libraries can enroll and participate in the courses, from library computers or remotely from home. For more information about the catalog of courses offered or to enroll in a course, visit shortgrass.ca/learning.