Fire destroys beloved monster trucks; high winds fueled the blaze
Posted on January 19, 2017 by 40 Mile Commentator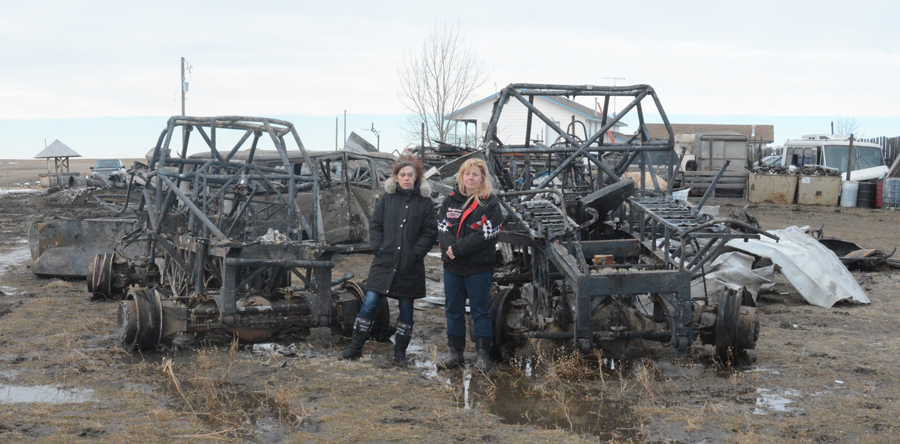 Photo by Justin Seward
By Justin Seward
In the early morning hours of Jan. 18, fire crews from Box Springs, Medicine Hat, Cypress County and Seven Persons responded to a structural fire in the Box Springs Road area. The fire engulfed the shop and trucks of Sheer Insanity Monster Trucks.
Cypress County acting Fire Chief John McBain said the wind was going in cross waves by the house and their main priority was to save the house and the small garage.
"By the time we got there, it was going pretty good with that wind," said McBain.
"There was no hope of saving it at that point. We hate to see anyone lose something like that, especially their livelihood, but thankful they still have a house."
Sheer Insanity Monster Trucks owner and driver Kathy Wills said it was surreal to see her business of 17 years perish.
"I keep opening my boot room door and there is always a shock there," said Wills.
"We're still numb and trying to absorb the vastness of it."
The outpouring of support has been tremendous with messages of condolence, and being in the industry, there is a lot of one-on-one interaction with the fans.
Wills mentioned it's hard to respond to each individual message and many have wrote that the monster trucks, Sheer Insanity and TNT, will be sorely missed in the community and they were a big part of peoples lives.
"We always know that monster trucks are a very big part of not just children's lives but also adults," said Wills.
"We do touch a lot of adults lives, especially with the breast cancer awareness truck. It's a loss not only for us, but it's also a loss for a lot of our friends and family."
The trucks were seen at show and tells, birthday parties on their property, Redcliff Days and the Medicine Hat Stampede parade.
A GoFundMe account has been set up under Sheer Insanity Monster Truck Race Team if people would like to donate.
The cause of the blaze is unknown at this time.