Grant funding to help with outdoor education project at SGS
Posted on February 9, 2017 by 40 Mile Commentator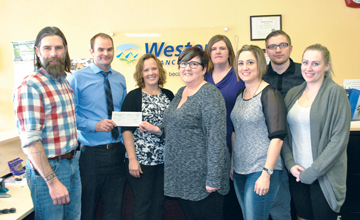 Photo by Jamie Rieger- Pictured from left: Corey Schiebelbein, Scott Angle, Jennica Phillips, Lori Hutcheson, Brenda Unger, Amanda Kielstra, Josh vanVliet, and Taryn Swennumson pose for photo at Western Financial Group when Senator Gershaw School received some funding for their outdoor education project.
By Jamie Rieger
The students at Senator Gershaw School are one step closer to having some outdoor learning added to their curriculum following a generous donation from Western Financial Group.
Lori Hutcheson, from WFG, said the $5,000 infrastructure grant came from the Western Community Foundation, a fund managed by Western Financial Group.
"Every year, we hold our Walk for a Cause where the money raised goes to the foundation. It's one of our fundraisers," said Lori Hutcheson, adding that staff at the Bow Island WFG also hold inter-office fundraising including one where they have been saving the proceeds for the right project.
"We've been saving for years. We just needed the right project for the money," she said.
The outdoor learning project, spearheaded by Senator Gershaw teacher, Corey Schiebelbein, involves trees, drainage, shelters, and a greenhouse.
"I started last June looking into it and the more I looked into naturalization of the grounds, it grew into this project," said Schiebelbein.
Principal, Scott Angle added that the potential for the students is huge.
"The potential for growth and the opportunities for the students is huge. This is an excellent project," said Angle.
The goal of the program is to create outdoor meeting/learning spaces for our school, while educating students on landscaping design, project planning, and the development process of outdoor spaces. Within these outdoor spaces our students will plant various types of trees, grasses, and shrubs, while using rocks, logs, and hills for added appeal.
"Our hope is to further this program by developing environmental awareness through the building of a greenhouse. This greenhouse could be constructed with using rainwater collection for watering and geothermal heating. Another project of the environmental awareness class would be to turn part of our field area into native prairie by planting grasses, sage cactus, chokecherry, saskatoons, etc," said Angle in a written statement. " The intention of our outdoor "Naturalizing Our School Grounds" project is to bring students outside the classroom in their learning. By adding outdoor learning spaces, dry creek beds, and native trees to our area; students can connect curriculum content in many subject areas to the environment that will be in our own backyard. With the addition of a greenhouse, we can continue the outdoor education of our students throughout the winter months."
The grant to Senator Gershaw is one of 50 infrastructure grants awarded through the foundation for 2016.