Council unanimously votes to help water co-op
Posted on February 14, 2017 by 40 Mile Commentator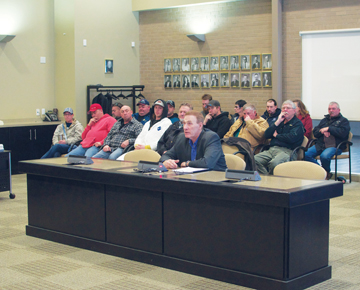 Photo by Justin Seward- Cypress County Coun. Garry Lentz, who chairs the Cypress Rural Water Co-op board, presented to council at their Feb. 7 meeting what the co-op requested of the county to help them get off the ground. Council voted in favour of providing the assistance.
By Justin Seward
After two plus years of discussions, A packed house of future water co-op members gathered in Cypress County's chambers to await council's decision on assisting with upgrading Veinerville's water vault pump, grant funding assistance and getting water rights to complete the $15 million infrastructure costs in order to complete the Cypress Rural Water Co-op at last Tuesday's meeting. "If the water co-op doesn't get grant money, I don't think the system will be able to go ahead, ," said Coun. Gary Lentz, who presented to council as a member of the water co-op chair.
If the grant funding didn't come through then each member would've had to pay $40,000.
Once council listened to Lentz's proposal from the other side of the debating table at the public dock, they approved the project's requests from Cypress County and he quite pleased with the outcome because it's a major step in the process. Lentz recused his vote.
"It'll be wonderful to get good potable water out to these people in the rural area," said Lentz.
"Typically the whole southeastern corner of the province has water that is very high in pH levels. Some of these people have fairly good producing wells but the water is of poor quality and try treating it to make it  drinking quality and some cases that's not even possible."
The 319 members who signed  will have access to the potable water once the project is complete.
He added there will be challenges the project will face once it gets underway such as government grant money that will bring the cost down because other water co-op's in the county were successful in getting grant money prior to a government change over, getting the water rights transferred and getting an agreement in place with the city for  water supply.
"It's a little clearer," said Walsh resident Elizabeth Noble.
"It's a little scary having to base all of our decisions on government funding but that's the way it works nowadays I guess. For us right now we actually have an agricultural area that doesn't have enough water to support our cattle, ranching industry right now, so any water we can get will be of value to us."
Once the system is complete the source will run from the Dunmore- Walsh-Irvine line (DIW) to Veinerville Booster Station and supply pipeline and it will be a low flow trickle system with 500 imperial gallons per day at a restricted flow rate of 0.33 imperial gallons per minute for domestic use. It will start in Veinerville and go 174 kilometres east to Irvine-Walsh and 15 kilometres north on the TransCanada Highway.
Parramatta Valley water saga continues
At the Feb. 7 Cypress County council meeting, a request for decision was brought forth to council to discuss paying for  the $35,000 Parramatta Geotechnical Study and Environmental Impact Assessment for 13 residences in the area  with funds coming from unrestricted surplus.
The discussion came up after the County agreed in June 2016 on behalf of Parramatta Water Co-op applied to the Growing Forward 2 Regional Water Supply Strategic Program for a grant to help cover costs. The application was unsuccessful because the program was oversubscribed and priority was given to agricultural producers.
After consideration, council had decided to postpone a decision until further information are obtained.
RCMP County Report
Redcliff RCMP Staff Sgt. Sean Maxwell attended last Tuesday's council meeting to give council a report on crime statistics in Cypress County from Oct. 1 to Dec. 31. The most notable stat in the period was the total amount of crimes going up to 68 in the current period from 48 in the previous period.
.