Do you know this man?
Posted on February 17, 2017 by 40 Mile Commentator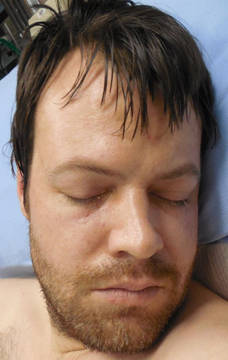 Photo courtesy of Redcliff RCMP
RCMP in Redcliff are asking for the public to help identify a man and re-unite him with his family.
On Feb. 14, 2017 at 10:30 pm., Redcliff RCMP responded to a complaint of a man walking along Highway 3 near Range Road 63 in Cypress County, south of the city of Medicine Hat. When RCMP officers arrived, they found a man who was in need of medical assistance. The male was transported to hospital in Medicine Hat where he is continuing to receive care.
So far, police and medical staff have been unable to determine the man's name or where he is from. He is described as:
– Caucasian male
– 30 yrs old
– approximately 6 feet tall
– 190 lbs
– brown hair
– blue eyes
– Tattoo's (left shoulder/ bicep area of a big horn sheep and playboy bunny)
– wearing a red hooded sweater, tan work pants,  tan work boots
Anyone that recognizes the man in the attached photographs is asked to contact the Redcliff RCMP at 403-548-2288.