Parkside students benefiting from CTF program
Posted on February 21, 2017 by 40 Mile Commentator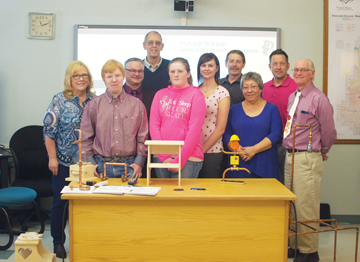 Photo by Justin Seward- Parkside School students and staff were at the Prairie Rose School Division's No. 8's meeting to present their successes of their partnership with Medicine Hat College's CTF program on Feb. 14. On hand to hear the presentation were board members (left to right) are Cathy Hogg, student Clayton Lehr, MHC dean of trades and technologies Dennic Beaudin, trustee Arnold Frank, student Caitlin Watson, Parkside trades teacher Melissa Heidinger, trustee Graeme Dennis, vice-chair Kathy Cooper, Parkside principal Boyd Craven, and board chair Stuart Angle.
By Justin Seward
Parkside School staff and students came to the Prairie Rose School Division No. 8's  meeting last Tuesday to present the successes the students  have been having with the Career and Technology Foundations (CTF) program in conjunction with Medicine Hat College's trades department. The CTF program partnership between Prairie Rose School Division No. 8 and Medicine Hat College formed last summer to offer students hands-on trades experience in a 10 to 12 week program throughout the academic year. Redcliff's Parkside School, Notre Dame School in Medicine Hat and  St. Joseph' Collegiate and the Composite High School in Brooks are currently participating in the program.
When language arts and trades teacher Melissa Heidinger was hired at Parkside School two years ago, what intrigued her the most about the job was the trades description because it was a passion of hers growing up. Her mother would always give her these experiences of being around trades people when they would come and fix something at the family home and she wanted to branch out and bring her knowledge to the students. The students are currently working on the carpentry and plumbing.
"For me this has  been a fantastic learning experience," said Heidinger.
"Having these students, watching them grow as they retake the courses has been phenomenal. They're coming up with their own projects. They've got that entrepreneurial spirit where they're creating things I wouldn't have ever even thought of and teaching me as I go along."
The process for her  prior to teaching the students is she went into the college prior to Christmas and worked with the instructors beforehand, so she knows what she's doing with the students in the classroom. She learned the step-by-step process on how to make a step stool and while in the plumbing lab she built a beclate stand.
"When the kids come to me and ask me what's the next step, I can tell them, which has been really valuable to me as a teacher," said Heidinger.
She added that she has been encouraged by the  six girl students in the program who have been able to come in and learn these passions and coming up with some amazing projects and the respect the students have given the machines, which has led to no reported incidents.
Grade 9 student Clayton Lehr said projects vary from week-to-week because the students are currently in plumbing where they did the Ipad stand and more recently a jewelry stand, but it was in carpentry class they made a gum ball machine and they learn how do read sketches and measurements quickly.
"I'd like to commend Medicine Hat College for supporting this program and allowing our students into the college because it's a big shift in philosophy and ideas from a while back until now," said board of trustee member Arnold Frank.
"I was aware of the difficulties before and  I am thrilled in the shift in change."
The CTF program is hoping to bring in welding and electrical next year.