Seven Persons students knit away
Posted on February 21, 2017 by 40 Mile Commentator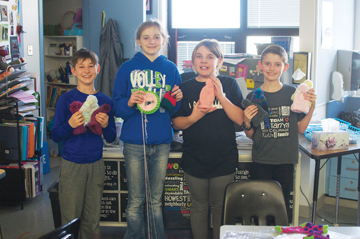 Photo by Justin Seward- Seven Persons School students (pictured, from left) Waylen Watson, Evie Neubauer, Cheyanne Zorn, and Rylan Dent take a keen interest in the art of knitting.
By Justin Seward
Deanna Dola's Grade 6 arts class at Seven Persons School put their creative thinking caps on in an effort to  help out their community. Dola asked her students what projects they wanted to take on in her option course this term and decided on loom knitting and they received an abundance of  donated baby yarn. The Grade 7, 8 and 9 students knitted 10 of the toques that had been completed in her previous class, while the rest were completed by the Grade 6s,  who began the course at the beginning of the month. Five of the toques are going to the Bow Island Hospital, while five additional toques plus one for every 10 that is sold will go to the Medicine Hat Regional Hospital.
"The kids love to give back," said Dola.
"They're very kind hearted and I have 10 kids in the class from last year and we did that T-shirt project and they talked about how it makes them feel good whenever they see someone wearing one of those T-shirts.  That's what I'm trying to promote, is them to recognize that there's always needs out there and we can make a difference to somebody. If everybody had that attitude and went out and did something to help somebody then it would be so much better. So now it's these same kids and they're bringing in the others and they want to do something now and maybe that'll continue."
She added the students have done a great job of turning an art project into something more and for 10 and 11-year-olds it's an accomplishment.
The class has also made a decision to start making 150 toques for Canada's birthday by the end of the school year and sell them to assist with the building of the 'Welcome to Seven Persons' sign on Highway 3.
Arts student Evie Neubauer said she's grateful for the experience because she likes helping people and it's cool to be able to donate to the hospital.
"It really helps you calm down and relax and you can pop a movie in and knit while you watch," said Neubauer.
Toques are $10 and can be purchased through Dola at Seven Parsons School.