Teachers build on classroom skills at SEATCA convention
Posted on February 28, 2017 by 40 Mile Commentator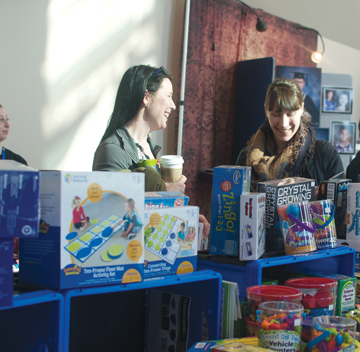 Photo by Justin Seward- Alisen Okell (l) and Dillison Buteau of Grasslands School Division in Brooks shared a laugh during the Southeastern Alberta Teachers' Convention Association workshops at the Medicine Hat College on Feb. 23.
By Justin Seward
While students were enjoying the Family Day week off, 1,200 teachers  from  the region took the opportunity to build on their classroom skills at the Southeastern Alberta Teachers Convention Association (SEATCA) convention at Medicine Hat College on Feb. 23 and 24.
SEATCA has a small committee of volunteers who organized between 120 to 140 sessions of professional development in all different areas to focus on the teacher's strengths, which provides them with value when they go back to class. SEATCA president Tim Johnson said teachers are looking for new strategies to help with the wellness of diverse students and their inclusion in the classroom.
For the college to open its doors to the teachers for new learning opportunities is of benefit for SEATCA because it strengthens their partnership by going through the rooms, technology and a theatre for the key note speakers. "It's always positive," said Johnson. "You can hear the chatter from teachers in different towns and cities. They're releasing some stress, probably talking kids in the class and struggles but hopefully sharing some good ideas as well."
Once the two-day workshop was completed, he hoped the teachers were feeling refreshed and going back to work on Monday morning and taking an idea or two with them.
Teachers can expect in the next couple of years to learn more about the First Nations, Inuit and Metis history. The experience had already began this year with teachers going to sessions where they relive the history. Johnson said this will give them the opportunity to open up their hearts and minds to help the First Nations population in schools.