Deerview Meats notches top business honour
Posted on March 14, 2017 by 40 Mile Commentator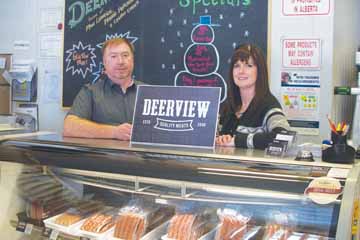 Commentator/Courier File Photo BUSINESS STILL STEADY: Perry and Chris Deering have had to make multiple adjustments during the COVID-19 pandemic.
By Justin Seward
Deerview Meats owners Chris and Perry Deering have been named the recipients as the first ever team to win  Medicine Hat College's annual Business Person (s) of the Year award.
The award goes out annually to a business person who demonstrates leadership in business and serves the community in other ways.
Both of them attend the event every year as guests and are humbled with award for their entrepreneurial efforts.
"Our first reaction truly was shock," said Chris.
"We couldn't believe this was happening. I think to be a team though that is nominated is significant because the winners of the past have all been individuals which is fabulous but we kind of bring a different perspective. We get to talk about being partners, husband and wife, working together all these years and it's nice to be recognized for that success."
The business originally started up on Perry's deer ranch in 2006 just south of their current location near Irvine, where they used to get their meat processed at other processing plants.  However, the biggest challenge that came with that was being able to maintain quality and consistency of their product. After Perry did some investigating into opening their own processing facility, the couple started up Deerview Meats in 2011 and being conveniently located off the Trans-Canada Highway, the business has become the top meat processing facility in the area for locally raised meat.
"We are the only facility of our kind in the area and location is an important aspect," said Perry.
"Our standard sells ourselves. By having standards that are above anyone else's confidence and reassurance to any client. If they know 'I bring my product to Deerview Meats and they will guarantee by a way of tracking and tracing, that it's my product I take home,' that speaks volumes."
The team is also well known in the community with 4-H and other youth projects, while Chris stays active with the college as she sits on Entrepreneurship Development Centre advisory committee. Their goal is to mentor and talk to kids about what it's like to run a business and give them a real life perspective so they can make an informed decision for a career path.
Deerview Meat's future will not to be stagnant but will always think of new ideas, which includes a new mobile slaughter system unit in the spring.
The 2017 Business Person of the Year award will be presented at the Connecting Students to Business event at the Medicine Hat Lodge on March 30.