Push-ups for PTSD
Posted on March 14, 2017 by 40 Mile Commentator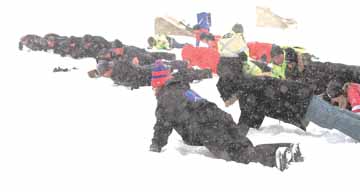 Photo by Justin Seward- Local police officers, EMS, firefighters, and HALO members battled the blizzardy conditions to take part in the 22-Push-up Challenge in support of PTSD. The event took place at the SAAMIS teepee in Medicine Hat on March 10.
By Justin Seward
Local First Responders braved the frigid temperatures at  the third annual 22 Push Ups Challenges at the Saamis Teepee in Medicine Hat on March 10 in support of bringing awareness  to the 22  Canadian Armed Forces members, veterans and First Responders who commit suicide every day due to Post Traumatic Stress Disorder (PTSD). It was discovered between 2004 and 2014 that 16 Canadian Force were victims of PTSD each of those years.
Jessie Tylre Williams, founder of the PTSD Benefit Gala and owner of Planetary Persuasions which encompasses this tour, said  for her it's not  about the push ups and more about keeping the conversation going through the 22 Push Up Challenge, as it might help save a life and build the connection with someone else who may have the same struggle.
"I try to direct them in the right way with the hopes that they get the help they need," said Tylre Williams.
" I've never been in the military, policing, fire, EMS or corrections. This is a small price for me to pay to give back my country. I get to go home safe every night because of men and women in service. What can I do to be of service to them and this is the only way I knew how to do something that would benefit them."
Rangeland Helicopters Inc., and Helicopter Airlift Operation (HALO) pilot, Steve Harmer, who served 26 years in the military and six years with Calgary Police Services, has a passion for the topic of PTSD because it hits close to home for him, having had a nephew serve in Afghanistan for five years and a family member almost committing suicide.
"It's not just the first responders," said Herman. "They go home at the end of the day to their wives and children and interact with them and of course if you have the mental issue of PTSD, you put it on to these other people who have to deal with it in their own way. There's a lot of stigma to this and in the community, we're only just getting mental health issues out there and that's a bit of a shame."
Medicine Hat is now challenging Winnipeg and Halifax.
Meanwhile, HALO pays Rangeland for a helicopter air ambulance all year round and still struggling to get the government support needed to stay in the air. The only government funding supplied is when HALO completes a mission. What's keeping them in the sky is community donations where the air ambulance  receives  $0.97 of every $1 made and does a mission every 10 days. However, the serviced is being hampered by the dispatch protocol in Calgary because they're the ones who give them direction to launch.
"It's a huge concern," said Herman.
"You as an Albertan pay your Alberta Health but that money goes to STARS in Edmonton or Calgary but it doesn't come to you in Medicine Hat. There should be funding for organizations like that. There is a need in this location for a medical helicopter and air ambulance. The EMS wanted the old system where a local EMS can launch us actually worked."
Herman said the government's response has been that STARS provides much better care in their aircraft and HALO shouldn't be funded. Furthermore, the paramedic on board is the same one as  HALO would take.
HALO is looking into modeling after Fort McMurray Phoenix Helicopters who run 24/7 cost effectively.