Tribute to the '60s at skating carnival
Posted on March 14, 2017 by 40 Mile Commentator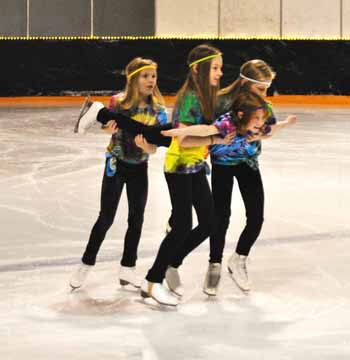 Photos by Jamie Rieger
By Jamie Rieger
It was a trip back to the '60s for the guests at the annual Bow Island Figure Skating Club's carnival on Sunday afternoon.
The carnival started with all the skaters performing together in the Opening Number Mash-up.
The Pre-CanSkate group of Shelby Bueckert, Evander Collins, Ty Klassen, Joshua Langeweg, Caleb Nelson, Remi Nelson, Landon Robertson, Liam Swinney, Barret Sweet, Lacey Thacker, and Nixon Van Ham, followed with their cute performance dedicated to 60s music.
Raeanne Lobb skated a delightful solo performance that centred on James Bond.
Next was Leo An, Jayce Artzberger, Braiden Heinrichs, Michael Heinrichs, Aiden Michalezki, Rhett Robertson, and Hudson Weatherhead performing "Born to be Wild".
Dressed in costumes straight out of the 60s, complete with tie-dyed shirts, Noeline Hofmann, Raegen Lodders, Raeanne Lobb, Aubret Robertson, and Elody Weatherhead were next up, performing "The Locomotion".
Noeline Hofmann showed how far she has advanced with her skating when she performed "It's My Party".
Sixties television shows were also featured at the skating carnival, with Brooklyn Hill, Leo An, Shelbi Walsh, Mila Wever, and Sophia Wever representing the Flinstones; Kevin An, Garrett Klassen, and Trent Langeweg portraying Batman; and Madi Isaac, Colin Matz, Remy Thacker, and Bradey Walsh representing the Jetsons.
Raegen Lodders followed with a beautiful performance dedicated to the hit 60s show, Bewitched.
Elody Weatherhead and Aubrey Robertson then skated to "Sunshine, Lollipops, and Rainbows".
The Lethbridge Ice Angels Pre-novice Synchra team provided an amazing performance as the finale for the carnival. much to the appreciation of the audience.
Shelby Lobb and Mackenzie Lobb did a wonderful job as masters of Ceremony for the event.