Friends recall Mitzel's dedication, passion for his community
Posted on March 21, 2017 by 40 Mile Commentator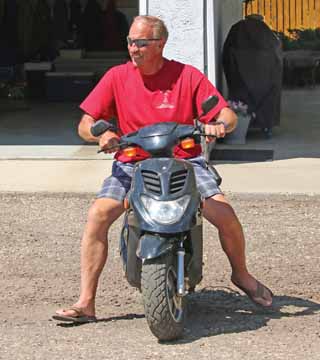 File photo by Jamie Rieger- Leonard Mitzel was very dedicated to his community, whether it was political, economical, or social. He was always one to step up and help out. Pictured, Len is riding a scooter as he helped out at the Etzikom Centennial in 2015.
By Jamie Rieger
Leonard Mitzel, who passed away on Sunday, March 12 after a battle with cancer is being remembered throughout the region as a man of integrity, honesty, and dedication to his community.
Alan Hyland, Bow Island councilor who had worked with Mitzel on numerous initiatives over the years when both were involved with provincial politics as well as many local projects. Both were involved with the Palliser Health board for many years.
"He always thought, 'what can we do?' He wanted to work as a group. When you work together, you can accomplish more. That is what we did to build Palliser. Honestly, if it wasn't for Len Mitzel, we wouldn't have the hospital here, or at least not the two additions. What we did as a community, and by community I mean the whole county, to get that hospital and he got it through priorities," said Hyland. "All the time we were pushing, there were departmental people wanting to spend the money elsewhere. He was there to make sure that didn't happen."
Mitzel began his political career as councilor for the County of Forty Mile, beginning a journey that would see many improvements for the region. Of his 15 years on county council, 12 were spent as reeve and took the role seriously, ensuring that all of his constituents received fair and equal representation.
"He is definitely going to be missed. He was involved with so much, from government, the border crossing. He did a lot for the county and the whole area," said Lorne Buis, deputy mayor for the Village of Foremost.
"He was a man of principle and whatever he represented, he represented it well. As reeve, he was all for the county and the same is true for when he was MLA," said Hyland.
Mitzel was elected to serve as MLA for the Cypress-Medicine Hat riding in 2004 and was re-elected in 2008 to a four-year term. In 2012, he lost the election to Wildrose Party candidate Drew Barnes. It was during his time in Edmonton that he was able to make progress on a trade corridor for eastern Alberta.
"He was very much in support of the Eastern Trade Corridor and that legislation passed unanimously and not many private members' bills do," said Hyland.
Mitzel then became involved with the American Ports to Plains that envisioned a trade route that would run from Texas to northern Alberta.
"With his involvement with Ports to Plains, it gave us in Alberta more influence in the States. It gives Alberta an opportunity to put some influence in the States where we didn't have it before," said Hyland.
One of the setbacks to the route was not having a 24-hour border crossing, so Mitzel was among many who lobbied on both sides to the border to open the Wild Rose crossing to 24 hours, an endeavour that he worked tirelessly to see happen.
Foremost mayor Ken Kultgen, who is Mitzel's nephew said that people should know just how dedicated, passionate, and caring he was for everything he was involved with.
"Leonard always worked hard to find ways to make this area and the whole province better," said Kultgen. "When he was in power, it didn't matter if it was the hospital in Medicine Hat, new water systems, or roads, the people in Edmonton all knew who he was."
Kultgen also said it was Mitzel who was instrumental in establishing the first Joint Liaison meetings between the village, county, and Bow Island, meetings that still take place.
"He always thought it was better for everybody to work together rather than against each other. He also started the Mayors and Reeves of Southeast Alberta and was chair for the first five years. He was light years ahead of things," said Kultgen, adding that Palliser Economic Partnership was also something that brought the communities closer.
Whether it was trade, health care facilities, or roads, Mitzel worked hard to make improvements in his riding, but also to be open to the people.
"He always had time to listen. He was a good constituency man. When people contacted him, he called them back even if he didn't have the answer right away," said Hyland. "When he wanted to do something for the constituency, he stayed with it."
After losing the election to Barnes, Mitzel looked for other ways to contribute and to move forward with matters he was passionate about, including the border crossing.
"When he lost the election, he turned to the Medicine Hat Chamber of Commerce to represent on the border crossing committee. He still wanted to do something and this was something he believed in," said Hyland.
Most recently, Mitzel and a group of Foremost-area farmers have worked to get a short-line railway operating from Foremost to Stirling. The unveiling of Forty Mile Rail Inc. came after years of behind-the-scenes work with CP Rail, ensuring all the regulations were met prior to the final approvals. It was something Mitzel was very committed to and passionate about.
"Forty Mile Rail was one of his last big accomplishments. He started on the groundwork years and years ago with Eldon Dixson and the two of them went and looked at shortlines in Saskatchewan. Then when Eldon died, it got put on the backburner until Paul Laqua and others revived it and got Mitzel involved again."
Besides politics and business, Mitzel kept involved with his community, whether it was working on additions to the Etzikom Museum, a project that came to life when the school closed in 1986 and a group of local people found use for the empty space. Two years later, the Etzikom Museum Society was formed and has been growing ever since. Last year, Mitzel and a small group of other volunteers worked on building a garage to house some vintage cars that had been donated.
When there was a social function happening in the area, Mitzel and a group of other musicians could often be seen performing jam sessions. It is one of the fond memories County of Forty Mile reeve, Bryne Lengyel has of his long-time friend.
"He was a great friend who I spent a lot of time with in our youth and we played music together. I am going to miss a great friend," said Lengyel.
Most will agree that Mitzel was well-known for his hard work, fairness, and his ability to not get upset when things did not quite go as planned.
"The sad part is I never saw him upset at anybody and I worked beside him on a lot of things. He has been a great resource, great for the community," said Buis.
Lengyel echoed that remark.
"He was a great supporter of the community, a great statesman, and when he did something, he did it 100 percent," said Lengyel. "I think he had a lot left to give."
Kultgen said that others in the community have picked up on Mitzel's hard work and dedication to various things, something that will carry on in the community.
"He's going to be a man who lives on for a very long time. Service clubs and others have been taking lessons on how Leonard got things accomplished and this will make things better for years to come."
Paul Laqua, who spent many hours working with Mitzel on getting Forty Mile Rail up and running, said Len was never just a participant in anything he did.
"It didn't matter whether it was the museum, the water pipeline, the rail, or Ports to Plains, everything he did took a lot of time. He was never just a participant in anything. He put in that extra effort that made all the difference," said Laqua, adding that he had visited Mitzel not long ago.
"He said to me that he wanted to spend more time with June and their family. June was most important to him," he said.