Redcliff Skating Club ends the year in style
Posted on March 21, 2017 by 40 Mile Commentator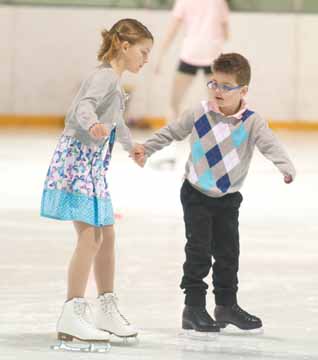 Photo by Justin Seward - The Redcliff Skating Club held their year-end skating carnival last weekend. The skaters celebrated by skating to the "Months of the Year" them which included a pajama costume, Golden Suns, while others went with the Ghostbusters and a simple figure skating dance.
By Justin Seward
Fifty skaters carved their talents out on the ice during Redcliff Skating Club's the 'The Months of the Year' themed show on Sunday afternoon.
Coach Sarah Schmidel- Portelance said the carnival theme was a fun pick and chosen for no particular reason, while it's a great opportunity for the PreCanSkate to get excited for the show by dressing up in costumes.
"Our main focus is fun and learn the basics of skating," said Schmidel-Portelance.
"Then whichever area they want to pursue whether it's figure skating or hockey, then we just let them go their own ways."
StarSkate's Paige Hodgson said she was excited hit the ice for the show but at the same time nervous because she had to perform a solo in front of a crowd.
"I like it," said Hodgson of her solo.
"I'm thinking I can do this and that I'm ready for competition. I wanted to compete  this year but it's not at a high enough level yet."
This is her fourth year with the club and what motivates her to come back every year is the enjoyment of seeing her friends.
Hodgson's cousin Kapri Booker said the show is the first step closer to joining competition and makes her comfortable skating to her duet and solo with fewer people around.
Meanwhile, Schmidel-Portelance said for the skaters who move up in the levels, they are expected to be more committed to being at the arena if they want to go to competitions and be tested. She has seen the hard work pay dividends with being on the ice five times a week plus an off ice session.
"I just see how much kids improve from the start of the year," she said.
"It's a guideline of how they're progressing. Some constant goals are to stay motivated, stay focused and have some good results at the end of the year with passing tests and improving from their last time."
She added it's important that the younger groups look up to the older skaters as role models because one they will be filling their shoes and be successful.
Despite the difficult economical times, Redcliff Skating Club is wanting to build on their successes and become a positive impact on the community.