Mitzel laid to rest in Foremost
Posted on March 28, 2017 by 40 Mile Commentator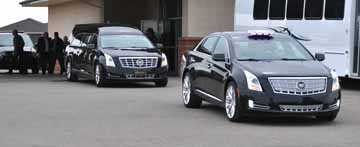 Photo by Jamie Rieger - The family of Len Mitzel prepare to leave the Foremost Community Hall and lead the procession to the cemetery for a private family internment following a touching celebration of his life on Friday afternoon.
By Jamie Rieger
Family, friends, colleagues, and fellow politicians joined together at the Foremost Community Hall on Friday afternoon to celebrate the life of Leonard Mitzel, who passed away from cancer on March 19 at the age of 71.
And, people came from far and wide to fill the seats and pay their condolences to a man who was just as known for being a hard worker in Edmonton while serving as MLA as he was in Etzikom and Foremost with his many projects to make his communities better places for everybody.
Mitzel's cousin and lifelong friend, Foremost mayor Ken Kultgen paid tribute to Len by talking of his importance to family and community.
"Leonard was always close to the family. The kids called him "Uncle Len" even though he was not their uncle. He was best friend to my dad, my brother Cliff, and myself," said Kultgen, who noted that many of the moments he was mentioning at the Celebration of Len's Life on Friday were written by Mitzel himself.
"He left notes to share with you today, but he did quite get it finished," said Kultgen.
Kultgen spoke of Leonard's youth, growing up in the area, playing a multitude of sports, and participating in many community activities.
At the age of 15, he and a group of local boys formed a band called the Marauders.
"Mercury had come out with a car called the Marauder that year and they liked the car," he said.
Mitzel attended school at Hoping until Grade 11 when he transferred to St. Francis High School in Lethbridge to complete his schooling.
He went on to work as a surveyor for Alberta Transportation before enrolling in pre-engineering courses at the University of Lethbridge.
It was after selling his farm that Mitzel entered the political arena, first as a councilor for the County of Forty Mile in 1989. Two years later, he would be elected as reeve, holding the seat for 12 years.
From 2004-12, he served as MLA for what is now the Cypress-Medicine Hat riding.
"He was a visionary who worked on the betterment of the whole area," said Kultgen. "He could connect with people no matter what walk of life they were from."
Mitzel worked tirelessly in getting the Southeast Water Co-op up and running, a project he was involved with for 20 years. He also started the Mayors and Reeves Association of Southeast Alberta, giving local municipal leaders an avenue for discussing local issues.
When Ray Danyluk was Alberta Minister of Transportation, he appointed Mitzel to be an assistant for the south zone, a position Mitzel took seriously and was very proud of.
He was also able to convince the government to invest $1 million to the Canadian Centre for Unmanned Vehicles, which has since led to the development of airspace for unmanned vehicles in beyond visual line of sight flying at the Foremost airport.
Most recently, he and a group of local people with entrepreneurial spirits and visions for the future started Forty Mile Rail, a short-line railway between Foremost and Stirling.
"He was so proud when that first train pulled into town last fall," said Kultgen.
A pet project for Mitzel was starting the Etzikom Windmill Museum in the community's old schoolhouse. Along with wife, June, they rounded up a group of volunteers who helped see this vision become a reality.
"He was extremely proud of all the hard work done by the volunteers who made this happen," said Kultgen.
In 1997, Mitzel participated in a Trail Ride from Ravenscrag to Etzikom, a journey that was special to him because it gave him some bonding time with son, Michael.
It wasn't all work and no play either for Mitzel, who accomplished so much in public life. Not known to many was the fact Mitzel had completed 75 sky dives. He also acted in 17 musical theatre performances.
"He got things done and he got things done with a lot of fun," said Kultgen.
Two other projects for Mitzel were the Wild Horse border crossing and Ports to Plains, two projects he worked tirelessly on seeing through.
"The Wild Horse border crossing and Ports to Plains were things he was very passionate about and worked on until his passing," said Kultgen.
Losing the election in 2012 may have come as a hard blow at the time, but to Kultgen it may have been a blessing.
"I believe the election results of 2012 were a blessing in disguise because it allowed him to spend some much-needed time with his family," said Kultgen.
Many, many people from far and near traveled to pay their condolences to the man who really knew how to get things done. Representatives from Forty Mile Rail, countless friends from throughout the County of Forty Mile, Cypress County, and beyond all paid their respects.
From the City of Medicine Hat in attendance were Mayor Ted Clugston and Coun. Jim Taylor. Blake Petersen also attended, as did Cypress-Medicine Hat MLA Drew Barnes and Bow Island Coun. Alan Hyland, who worked on many projects, programs, and initiatives with Mitzel over the years, attended with his wife, Dianne.
Rev. David Carter led the service on Friday, and told those in attendance that he and Mitzel would care for abandoned churches, including St. Margaret's Church in Cypress County.
Of St. Gabriel's Church in Etzikom, Carter said Mitzel talked about forming a work party to restore it, a project that Mitzel noted would have to be finished by family and friends.
Following the celebration of his life, Mitzel was laid to rest in a private family internment at the Foremost Community Cemetery.
Mitzel is survived by his wife, June; daughter Lara (husband, Scott), and their children Isobel, Caleb, Olivia, and Karra; son Michael (wife, Nina) Vezina and their children, Kindrie, Kayla, and Mystearica and many extended family members.