New superintendent for PRSD
Posted on March 28, 2017 by 40 Mile Commentator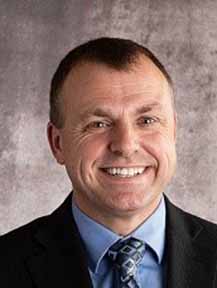 Commentator Courier File Photo Roger Clarke, PRSD superintendent,
By Justin Seward
The Prairie Rose School Division (PRSD) will have a new vision in the superintendent's chair next year as it was announced last Thursday that Roger Clarke will take over the position from Brian Andjelic, who is retiring at the end of this year. Clarke comes to PRSD with 27 years of experience in the education system, having recently served the last 12 years as superintendent in the Fort Vermilion School Division in northern Alberta's Peace River area.
"It just excites me.  It's new and fresh," said Clarke.
"I've been in the jurisdiction I'm in for a long time and I think there's been lots of success over that time. I want a challenge in a new area.  When I read about the Prairie Rose School Division, I was impressed by the programming they have there and what the school division has been focusing on for students."
Clarke added the larger centres with many schools didn't appeal to him because you feel detached from the schools and the work of education, while in the smaller school divisions the opportunity is there to recognize the effort put into student needs.
The Newfoundland and Labrador native's strengths at his current position  was to evaluate programming and for him it will be about listening and  asking questions to staff about what exceptional things are happening in regards to what PRSD has in place for programs.
"What I'd like to then is really evaluate where we can improve even further and students can be proud of the program that they have," said Clarke.
"And obviously be assured that the kind of learning they've experienced in PRSD is going to lead them to success as an adult."
Clarke will move to the area at the school year's end and start on Aug. 14.