Riverview golf course cooking up new flavours
Posted on March 28, 2017 by 40 Mile Commentator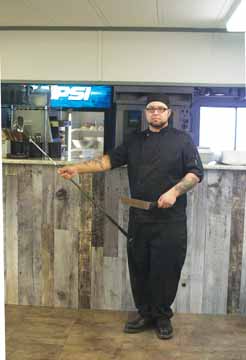 Photo by Justin Seward - Redcliff chef Tyler Singh is hoping to cook to a menu that brings more business to the golf course.
By Justin Seward
Now almost two years into his tenure as head chef with Riverview Golf Club, Redcliff's Tyler Singh is bringing a new flavour to his local course's kitchen that is bound to attract more locals to the clubhouse for a tasty dining experience.
Singh has an artistic side to him having taken an interest in music, paintings and drawings, which led him into the culinary art where he has spent 15 years  working his way up to a top chef. His stops included being an apprentice at the Medicine Hat Lodge, the former My Office Pub, Tumbleweeds Pub which is currently the Rustic, Desert Blume and a camp cook in the oilfields. However, once he realized camp life wasn't his forte, the chance to come home and cook where people appreciated it  was the opportunity he needed to use his creative side.
Once he arrived at Riverview, it was not long before he cleared out the pre-packaged foods and started a mandate he believes is a recipe for success.
"I like the fresh and the local," said Singh.
"A good product is the end goal. I really like supporting the little guys and without local businesses, we wouldn't be a community at all. My biggest thing is staying as one."
Singh gathers his products from Redcliff greenhouses, Reg's Homestyle Meats and Redcliff Bakery.
His menu varies anywhere from Asian flares to Fish tacos and all the way up to Mexican dishes and a Western cuisine.
"I like doing a lot of homestyle dishes and putting a bit of a flare on to it as well," said Singh.
"It's almost like a fancy pub food.  Medicine Hat and area can be fancy but more people I find are looking for homely things they can relate to. Homemade from scratch is 90 per cent of my menu."
The chef likes to experiment with the soups because he'll sell anything from a taco soup to a cheeseburger soup because he takes great pride in executing something other than traditional dishes.
He is currently Red Seal Chef but is looking into what it takes to be a Certified Chef de Cuisine (CCC).