Nerdman to the rescue – Photos by Jamie Rieger
Posted on April 4, 2017 by 40 Mile Commentator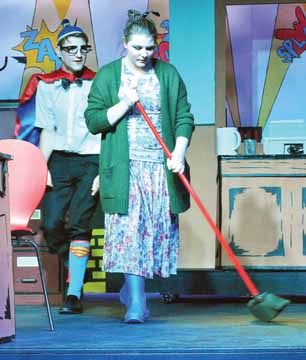 Photo by Jamie Rieger - The Grade 11 Senator Gershaw students put on a crow-pleasing performance of Craig Sodaro's "It's a bird! It's a plane! It's ... Nerdman!" last week for their annual Poorhouse Playhouse presentation.
By Jamie Rieger
The newsroom at the Daily Hammer was abuzz with adventure and shenanigans when a crime spree swept through Bowopolis, including when one of their reporters is murdered while trying the break the The well-prepared cast takes the audience through the scenes filled with suspense, intrigue, and of course, humour as events unfold in the newsroom of the local newspaper.
Editor Harry White (played by Johan Dekker, despite all of his coffee and smoking, does his best to keep things under control while listening to society editor Lois Drane's (played by Cassidy Andreas) repeated demands for an opportunity to cover a hard news story. The editor tosses aside her requests in favour of male employees, including Timmy Wholesum (played by Jeff Kim), the copy (and coffee) boy.
The newsroom becomes the scene of numerous crime scenes and investigations as Clark Brent (Tommy Schussler), aka Nerdman tries to save the day and win the heart of Lois.
The audience was in stitches whenever Cora (Tyeson Verhoeven) spoke in a cracked high-pitched voice. Keeping with tradition of the annual Poorhouse Players plays, at least one female character is played by a male actor and one male character played by a girl, which always delights the crowd.
The Grade 11 Senator Gershaw class did a wonderful job of presenting this comedic performance in front of family and friends, some of whom attended the play more than once.
At the end of the final performance on Saturday evening, director Jennifer Tiffin announced that Bev Flower, who takes on many tasks in preparing the annual play, would be retiring and passing the torch onto fellow SGS staff members.
All involved, from the talented cast to those hard-working individuals behind the scens did a fine job once again of staging a comedy for the community. One thing is for certain, the annual Poorhouse Playhouse productions never disappoint and "It's a Bird! It's a Plane! It's … Nerdman" was another example of their dedication.