Students gain leadership skills at Horizons conference
Posted on April 4, 2017 by 40 Mile Commentator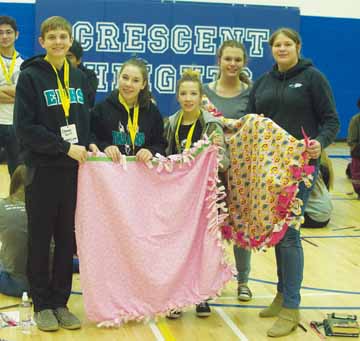 Photo by Justin Seward - Pictured from left: Eagle Butte High School students Chase Hart, Kelsey Hamill, Tori Doughty. and Abby Salter contributed in making blankets for the Pregnancy Care Centre at the Horizons Conference in Medicine Hat on March 28.
By Justin Seward
Crescent Heights High School in Medicine Hat hosted the third annual Horizons Leadership Conference on March 28 for 130 students from Medicine Hat and surrounding area to learn about leadership skills through teamwork activities and listening to motivational speakers. The day was set up for students to become motivated and inspired to bring back information to their schools to make it a better place to learn and live.
"It allows them to come together with other like-minded kids and realize as a group they can make a big difference in the world," said Heather McCaig, Alberta liaison for the Canadian Student Leadership Association.
"When you listen to guest speakers that talk about the impact that they can have in the world, it'll motivate kids to go out and create change."
McCaig mentioned it was important to bring the conference to the area because it gives kids in the smaller centres an opportunity to show the potential of work they can do to make a difference.
Eagle Butte High School has had a creative leadership group in the past, having organized anything from Dress-up Days to Pie a Teacher, and four members of this year's student council took the opportunity be part of the Horizon Leadership Conference in an effort to improve skills and build a similar foundation for the school.
Teacher Heather Laturnas was hopeful the team building would provide some newfound energy in the students.
"I hope they come back excited to do good work in our building and to be involved in leadership activities in our school," said Laturnas.
Grade 10 student Chase Hart said the event gave him a better perspective on how he can broaden his horizons on projects to help his school.
"We need to learn about everyone in our school," said Hart.
"If we want to put on these activities for the kids in our school, I think we need to learn how all the grades react. We need to get it to where everyone is involved."
Also included in the day's leadership exercises were kids making blankets for the Pregnancy Support Centre, dog toys for local rescues and projects for libraries.