Longtime Redcliff resident named town's Citizen of the Year
Posted on April 11, 2017 by 40 Mile Commentator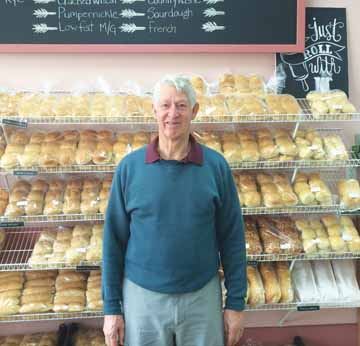 Photo by Justin Seward - Redcliff's Mel Spence has been named Citizen of the Year for the countless hours he puts in for various organizations around town.
By Justin Seward
The Redcliff Lions Club has been handing out the Citizen of the Year award for 30 years and Mel Spence was the chosen candidate this year. "I feel honoured to be chosen," said Spence. "There's so many people in Redcliff that have been chosen as Citizen of the Year over the years and to be put into that group of people is a big honour. Kim (committee member Donais) had to phone me several times to try and catch me at home. I wondered why he was phoning me but never ever thought of that. It was very much a shock."
Spence settled in Redcliff back in 1978 where he worked as a Research Technologist at the Defense Research Establishment (DRE) Suffield and now 40 years later has been a citizen of the town and  putting his time back in the community by being involved with the United Church, the organizer for the Third Street Bazaar at Redcliff Days and a volunteer at the Heart and Stroke Foundation and the Alzheimers Society.
"Redcliff's a small town and I think it's a fabulous community," said Spence. " I do it for myself because I'm retired I want to stay busy and sitting around the house is not my style. I think it's a win-win situation where I can help out my community and I get to keep busy."
Volunteering for the Heart and Stroke Foundation and the Alzheimers Society hits close to home for Spence because he was the victim of a heart attack, while his mother suffers from Alzheimers and his wife Kathleen has diabetes.
"I like being able to contribute to the research work that they provide to heart and stroke problems," said Spence.
"You experience these things on a personal level and they become important to help the organizations out in the things they do."
Spence will receive the award at the 30th annual Redcliff Volunteer Recognition and Citizen of the Year Awards Celebration on April 28.