Angry tenant causes extensive damage
Posted on May 2, 2017 by 40 Mile Commentator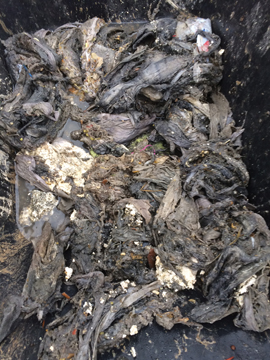 Photo courtesy of Town of Bow Island - Bow Island public works crews had a big mess on their hands when somebody intentionally stuffed rags down a sewer line, forcing workers to back-flush the line and manually remove the rags from a screen leading to one of the lift stations.
Notes from the April 24 Bow Island council meeting
Rags stuffed in sewer line
It is believed that a disgruntled tenant was the cause of a plugged line to a lift station in town after public works crews discovered the line had been stuffed with rags and other debris.
The items became entangled in a screen along the system resulting in workers having to back-flush and manually remove the rags.
It took two workers five hours to clean up the mess, costing the town an estimated $5,000.
The Bow Island Evangelical Free Church has asked town council for permission to use the Bert Knibbs ball park for a fireworks display on July 1 and also asked if the Town could provide any other assistance for a Canada Day event.
For the fireworks display, the church would need to seek approval from fire chief, Kelly Byam, but voted to approve with conditions.
For financial assistance, council said they would support community events for Canada Day, but wanted to find out what other organizations had planned first.
"We have a Community Spirit Fund in our budget and this is something that would fit in (as would an event being planned for the Golden Age Center at the end of July). That is what this fund is about," said mayor Gordon Reynolds.