SGS students off to provincial Skills Competition
Posted on May 2, 2017 by 40 Mile Commentator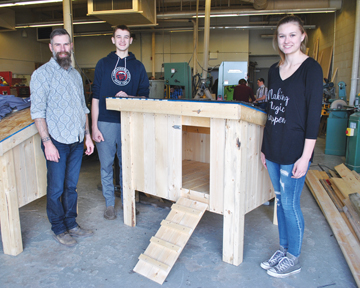 Photo by Jamie Rieger - Senator Gershaw Carpentry teacher Corey Schiebelbein (left) poses with his two students, Chris Byam and Makayla Gross and the chicken coop they worked on to prepare for the regional skills competition. The two placed gold and silver at regionals and will be participating in the provincial competition in Edmonton on May 10-11.
By Jamie Rieger
Two Senator Gershaw students are heading to the provincial Skills Competition after placing gold and silver at the 12th annual South East Alberta Skills Competition, held at the Medicine Hat College on Apr. 25.
Chris Byam earned gold and Makayla Gross silver in the carpentry competition where they had to build chicken coops in a six-hour period.
The competitors were prepared ahead of time for their project, so knew what to expect when competing against students from other schools.
"They all received prototypes to help them prepare. They never used to do that before," said teacher, Corey Schiebelbein. "It really helps them to know ahead of time."
Byam said it was definitely helpful knowing ahead of time what the project would be and found time management was his biggest concern at the regional skills competition.
Gross agreed and added that it was nice to see how the other competitors were doing during the competition.
That pair will compete at the two-day provincial competition taking place in Edmonton on May 10-11.