Showing the consequences of texting and driving
Posted on May 9, 2017 by 40 Mile Commentator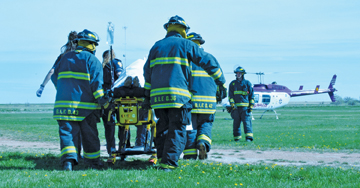 PHOTO BY JAMIE RIEGER - In this mock scenario hosted by the Bow Island fire department, a patient gets transported to the waiting HALO rescue helicopter for rapid transport to the hospital.
By Jamie Rieger
Bow Island and Burdett students watched a very realistic portrayal of what could happen if a motorist texts and drives when the Bow Island fire department hosted a mock motor vehicle collision on Thursday morning at Senator Gershaw School.
The scenario involved an adult woman who was texting and driving rear-ending the car in front of her. This vehicle carried a group of teenagers, one of whom was not wearing her seatbelt and was ultimately ejected from the vehicle. Two other individuals were trapped and had to be extricated.
Bow Island fire chief Kelly Byam said the goal was to make the scenario realistic without traumatizing the students watching the situation play out.
"Our goal is not to traumatize, but to raise awareness about texting and driving. Many of the motor vehicle collisions we get called to, this is the cause," said Byam.
"For what you think is looking down for a second may be enough to cause a collision. Pull over or wait to do your texting."
The students saw everything from extricating a wounded passenger, who is treated at the scene until the arrival of the HALO helicopter to a deceased person being covered with a sheet and eventually moved to a hearse that arrives on the scene.
The event was supported by HALO rescue helicopter, Alberta Health Services, and Cook Southland Funeral chapel.
"This is the largest killer of our young people," said Steven Harmer, HALO pilot. "Wouldn't it be great if our next generation of drivers did not text and drive?"
Students from Senator Gershaw, Cherry Coulee Christian Academy, and Burdett School attended.
Byam provided some statistics for the students:
-Drivers who text and drive are 23 times more likely to be involved in a crash or near-crash event.
-Checking your text for five seconds means that, at 90 km/hour, you have travelled the length of a football field blindfolded.
-Approximately 26 percent of all car crashes involve cellphone use.
-Estimates indicate drivers using phones look at, but fail to see up to 50 percent of the information in their driving environment.
-Eighty percent of collisions and 65 percent of near-crashes have some form of driver inattention as contributing factors.
-Driver distraction is a factor in about four million motor vehicle crashes in North America.
-Distraction was a factor in close to six out of 10 moderate to severe teen crashes.
-Almost half of all people killed in distraction affected crashes involving teens were teens themselves.
PHOTOS BY JAMIE RIEGER