Dulle named Cypress County Citizen of the Year
Posted on May 16, 2017 by 40 Mile Commentator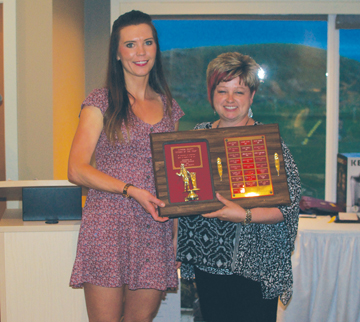 By Justin Seward
An evening of recognition was held at the Desert Blume Golf Course for  the past and present Cypress County employees and residents for their hard work and dedication at the annual Cypress County Staff and Volunteer Banquet on May 12.
The last award of the night was the Cypress Courier sponsored  "Citizen of the Year Award," which was presented by the newspaper's sales representative Noella Krauss to Leanne Dulle.
Dulle  was nominated by her husband Kris because she has contributed her time and resources to plan fundraisers and complete community enhancement projects. She also makes sure children are safe in the community.
"I was surprised," said Dulle. "I wanted to see some better improvements and be able to see some of these projects happen and it takes community volunteers and people to come together and do that. It's something I enjoy doing and I'm always looking for ways to keep the kids active in our community and to keep everybody occupied. It's been exciting."
The Dulle's moved from Medicine Hat to Dunmore in 2010, where they reside with their three children Logan, Lucas and Deacon. Since being in the rural community, Leanne has orchestrated projects such as the Eagle Ridge playground in 2014  and more recently the Irvine School playground earlier this year and for her to see those facilities available for the kids. It is a way of keeping themselves active and to explore.
It was important for her to oversee the Eagle Ridge playground because their young kids at the time did not have easy access to a playground closer to home, while in while in Irvine they had funds to build a new outdoor facility, but did not know how to take the next step in the building process. She mentioned she could not have done the projects without the help of the people in those communities.
"There's so many talented, hard working people in both those communities and it was awesome to see the Irvine one that just finished," said Dulle. "We had 80 -plus volunteers that weekend, not to mention the companies and the organizations that provided an in-kind service as well as the financial donations. Everybody came together to see it right to the end."
The next project is uncertain but it is not out of the realm of possibilities that another one is on the horizon.