Broadband Internet needed in rural SE Alberta
Posted on May 23, 2017 by 40 Mile Commentator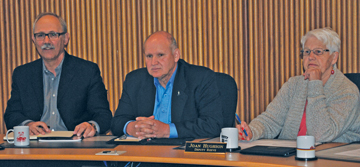 Photo by Jamie Rieger - Pictured, from left: Walter Valentini, Palliser Economic Partnership executive director; Jim Turner, PEP representative from the City of Medicine Hat, and Joan Hughson, County of Forty Mile councilor, listen to Craig Dobson (not pictured) as he talks about the necessity of broadband Internet in rural areas.
By Jamie Rieger
Connecting broadband internet to remote areas of the County of Forty Mile is something council should start putting on its radar, according to a delegation from Palliser Economic Partnership (PEP) who attended their May 10 council meeting.
PEP executive director Walter Valentini, Jim Turner, vice-chair for PEP's broadband committee,  and Craig Dobson, principal with Taylor Warwick Consulting Limited, who has been retained by PEP to conduct a broadband study for the organization's coverage area. The project study was broken down into four geographic areas: County of Forty Mile, Cypress County, County of Newell, and Special Areas. Dobson focused on the County of Forty Mile during the May 10 engagement session.
"Fixed wireless is reasonable in some areas and for mobility, there is very little coverage in some areas. Things could be improved," Dobson told council. "The biggest cost is putting the fibre in the ground. The fibre is cheap, the biggest cost is digging up the ground." said Dobson. "If you're digging up the ground for another project, put some conduit in the ground at the same time; for instance, when you are putting new developments in your hamlets."
Connecting homes between Bow Island and Foremostwould be a fairly inexpensive endeavour, but as the work moves outward into areas with sparser populations, the cost would increase.
"As you go out further, it becomes more expensive and would need to go wireless," said Dobson.
In December, the CRTC (Canadian Radio-television and Telecommunications) deemed broadband internet as a basic telecommunications service. At that time, the federal government announced it would invest $500 million into providing Internet connections to remote and rural communities across the country.