Cypress County introduces new fire chief
Posted on May 30, 2017 by 40 Mile Commentator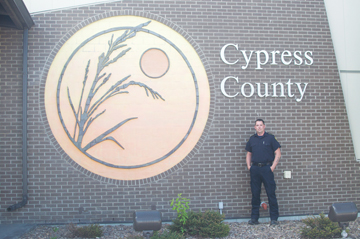 Photo by Justin Seward - Kelly Meyer is hoping his previous firefighting experience will pay dividends in Cypress County as their new fire chief.
By Justin Seward
Cypress County appointed Kelly Meyer as their  new fire chief earlier this month and a  challenge he is looking forward to tackling head on. Meyer has some familiarity will rural firefighting, having spent the previous 12 years  at the CFB Suffield fire department.
"I had good opportunities out there," said Meyer. "I was very lucky in that aspect. It's very challenging and hard to get into a fire department. I got a lot of training and education and now went through the process for the Cypress County fire chief or emergency services supervisor."
When Meyer talked to his family and other people in the field, the words were encouraging to give the position a try. The decision was made easier because of his previous position as the county's training officer.
"They had good things happening that the Fire Master Plan (has) from TSI and all recommendations to make the county better," said Meyer.
"There's a lot of potential. Each station has over 120 firefighters. They want to learn to provide the best service they can for their communities and I thought that would  be very challenging and rewarding to get things moving forward."
His focus will be to try and provide more adequate training and  answering more of the firefighters needs.
"I can tell the guys how we did things and the direction we need to go with streamlining the standard operating procedures (SOPs), making sure everyone is safe and don't take those unnecessary risks and just making it a good outcome for everybody," said Meyer.
The Manyberries native said the foreseeable challenges that lie ahead will include the recommendations with the Fire Master Plan, while making sure SOPs are out there and if something ever did happen that the firefighters are all covered.
"The biggest challenge I'm going to see is the time aspect," said Meyer. "Some things with the Fire Master Plan are going to happen quicker than other things. I'm looking at it as like looking at a stone. I want that stone to become a pebble, how am I going to make that happen? I'm going to take small chunks out of that and with the Cypress County people here, everybody's chipping in."
Meyer's hope is to have all the firefighters qualify for their 1001 status so they are trained to give them the highest standard .