Motz visits county council
Posted on May 30, 2017 by 40 Mile Commentator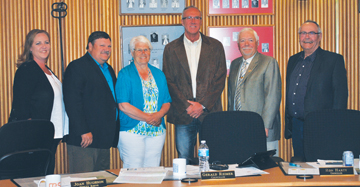 Photo by Jamie Rieger - Glen Motz, MP for Medicine Hat-Cardston-Warner paid visit to the County of Forty Mile council on May 24. Pictured from left: Coun. Chantel Timmons, Coun. Gerald Reimer, Coun. Joan Hughson, Motz, Reeve Bryne Lengyel, and Coun. Ron Harty.
By Jamie Rieger
It was an opportunity for County of Forty Mile council to let the Member of Parliament know what he can do to best represent the people in the region when MP Glen Motz attended the May 24 council meeting.
"As a member of the Opposition, I look for things I find important to move forward and I find that these things happen by developing relationships. In Opposition, that is key," said Motz.
As an example, Motz told of the work done when Bovine TB hit in the Jenner area.
"I partnered with other agencies and met with a lot of ranchers," he said. "Then the CFIA got off to a poor start with it. They had no appreciation for the size and scope of it. So, they welcomed anything we gave them."
Motz indicated that they are still waiting on Finance to make an announcement about compensation.
"We are waiting on Finance and they have to understand the impact this has had on producers. Some of these guys lost a lot of their breeding stock."
Motz then told council his main purpose for attending the meeting was to hear from council about what they need from him.
"I want to hear about projects, the state of those projects, funding, and what departments I need to engage. You letting our office know about these things is good," said Motz.
Reeve Bryne Lengyel told Motz that the Species at Risk Act is having a huge impact on the people in the Manyberries area, as well as on the county's economy.
"That Species at Risk Act has affected our economy. Oil companies have shut down their operations, some have gone bankrupt, and in some cases, we've been left with the education tax," said Lengyel. "The Feds should have done more consultation."
County administrator, Dale Brown added that the federal government could have considered a compensation package for those impacted by the Emergency Protection Order on the Greater Sage grouse.
"Maybe they need to look at doing that. It's even difficult now for the re-sale of land," said Brown. "If these designations are made, there needs to be compensation."
Motz said he believes the best stewards of the land are the farmers and ranchers and that some of the Sage Grouse studies appear somewhat skewed.
"Some of the studies have shown that there is a natural fluctuation in the sage grouse and the Manyberries area is the northern tip of their habitat," said Motz. "Now, they have attached crisis to this and we need to make sure that real science is actually being used out there."
Lengyel told Motz council was appreciative of the work he was doing for the people in the riding.
"We learn by listening and we want to know what we can do for you. We need to work together," Motz responded.