Braving the elements to pedal for Heart and Stroke
Posted on June 6, 2017 by 40 Mile Commentator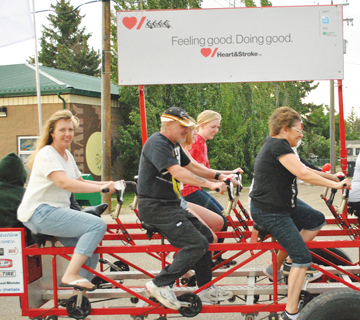 Photo by Jamie Rieger - Energetic members of the community embark on the Community Ride for Heart and Stroke last week.
By Jamie Rieger
Mother Nature provided dramatic effect for last week's Big Bike community ride for Heart and Stroke when black clouds started rolling in as participants prepared to embark on their 20-minute pedal through town.
Just as the riders were about to depart the starting point, a gust of wind blew through, sending all of the paperwork for the event flying, including pledge forms and payments. (If anybody has found some of this, please return it to Bernice at Island Market.)
Despite rain and wind, the riders made their way down Centre Street and looped through the campground at Centennial Park before making their way back to the parking lot across from town hall.
Bow Island mayor Gordon Reynolds, along with Couns. Bernice Deleenheer, Kevin Davis, and Rob Ficiur all participated in the ride.
Amy Ziebart, coordinator of fund development for Big Bike and Jump Rope for Heat, said the fundraiser for the Heart and Stroke Foundation, is a fun way for communities to raise money while being active.
Heart and Stroke has placed more than 8,000 automated external defibrillators in facilities across Canada and in 2015, invested more than $31 million for research into heart disease and stroke.