PRSD students show a talent for arts and music
Posted on June 6, 2017 by 40 Mile Commentator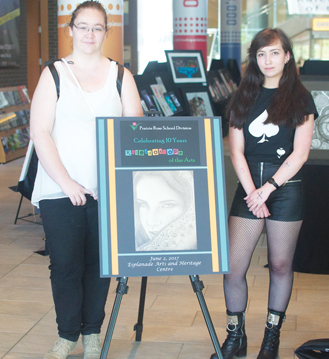 Photo by Justin Seward - Eagle Butte Grade 11 students, Sara Rondeau and Ramita Lehman were part of a great day of showing arts and music during the 11th annual Kaleidoscope of the Arts at the Esplanade in Medicine Hat on June 2.
By Justin Seward
The 10th annual Prairie Rose School Division Kaleidoscope of the Arts was held at the Esplanade on June 2.
The event showcased drama, musical and art pieces from K-12 Prairie Rose School Division students who have worked on their projects all year long to put on display at the day long event.
"What I've learned is that the students in the  Prairie Rose School Division are very talented, creative and motivated for art and music," said Eagle Butte arts teacher Chuck Wadman.
Seven Persons School music teacher Tiffany Molin said the planning starts 12 months in advance in making sure the students work together and  realizing this is a team sport when making a production happen.
"I come in with my band having students in Grade 7 who hadn't played a wind instrument before to being in the same class as Grade 9s that already have at least two years of experience on an instrument," said Molin.
"There's a lot of growth real quickly to get to the level that we are at today. This is a huge opportunity. This is a professional theatre for students who are amateurs to come and show off what they've learned this year."
Students did voice recitals with professionals in workshops in the studio theatre.
The Cutbanks Room saw drama and music performances all day long doing a public speaking oratory and piano recitals for the new students, while the main stage housed a mix of all musical pieces.
Additionally, with it being the 10th year of the event, the theme coincided with Canada's 150th birthday and over 150 Grade 1s and 2s from the school division did an art workshop where they set out and painted what Canada meant to them.There were 1,000 pieces of artwork that were collected throughout the year and there were various awards that were handed out at the high school, middle school and elementary levels and a People's Choice award.
Elkwater fundraiser
The annual Kaleidoscope fundraiser with be held at the 1234 Cafe in Elkwater starting at 2 p.m. with a silent auction and dinner at 6 p.m. on June 24.
Tickets can be bought by contacting Paulette Heller at (403)928-3975.