Andjelic retires after 38 years with PRSD
Posted on July 4, 2017 by 40 Mile Commentator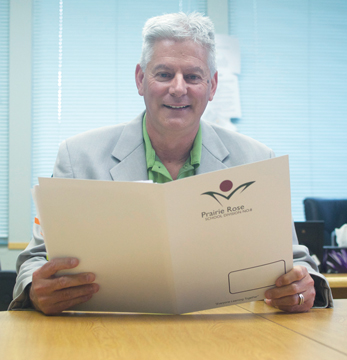 Photo by Justin Seward - Brian Andjelic has had a great run with PRSD over his tenure with the school division. Andjelic recently announced his retirement so he could devote more time to his family.
By Justin Seward
After 38 years in the Prairie Rose School Division  (PRSD), superintendent of schools, Brian Andjelic has  closed the book on his education career.
He said it is a time of mixed emotions but on the same token it will be a chance for him to spend more time with his family and passions outside of work, while pondering how he can give back in a different capacity to the community.
"The sad part of it is just knowing that I'm not going to work with the crew in Prairie Rose every day," said Andjelic.
"They're brilliant people here who want to make a difference and who care a lot. To think I'm not going to be in the middle of all of that to tell you truth makes me sad."
The Medicine Hat native tabled a number of job offers before taking his first teaching position at Irvine School in the fall of 1979  because of the familiarity of the area with his grandparents owning a farm on Highway 41 between Elkwater and Irvine.
Andjelic anticipated to be at Irvine School for two years but with him being so well respected, the stint turned into 20 years of teaching.
It was between his first stint at Irvine School, transferring to Eagle Butte High School as vice- principal and returning to Irvine School as principal that he decided to spend three summers doing his Masters at San Diego State before landing at PRSD's main office.
Upon his arrival at PRSD in August 2001, Andjelic started as an assistant superintendent of learning before becoming the deputy superintendent and in 2013 he obtained the superintendent's chair.
"It kind of the same family of school divisions for 38 years," said Andjelic.
"I think that's relatively rare. There's days where you think 'OK is that the right decision or should you be looking outside the current  school division just to broaden horizons.' I think for the most part for me and my family it's made sense. I've always been challenged just simply because I've had so many different positions. I've always felt energized as a result of those opportunities and some of those changes."
Andjelic said one of the rewarding parts of being a superintendent was being able to make school visits for their celebrations but in his eyes those trips are not made enough in education.
"The farewells are a real big thing," said Andjelic.
"We don't produce widgets. We're about learning and to see those celebrations of learning are just so critical for division office where we don't get the energy from the kids everyday."
Now that he is retired, he would like to think he has left PRSD in  a little better shape than he first arrived but in saying that he was fortunate enough to inherit a great situation because of PRSD performing at a high level.
He did not rule out the possibility of keeping tabs on PRSD and showing up at the first public meeting next year.
The first retirement trip will be hopping on a plane to Europe next week and when he returns to play his guitar more and do some fishing.