Change of command at CFB Suffield
Posted on July 11, 2017 by 40 Mile Commentator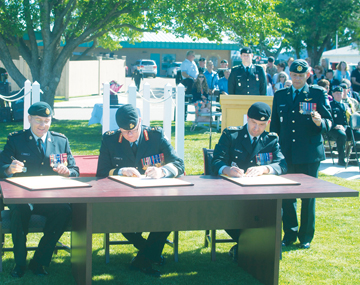 Photo by Justin Seward - Lt. Col. John Scott (left) signs over command of CFB Suffield to Lt. Col. Mike Onieu (right) at the change of command ceremony on July 5. Brig. Gen. S.M. Lacroix (centre), commander of the 3rd Division Support Group, signs off on the command change.
By Justin Seward
Lt. Col. Mike Onieu formally took command as the 21st base commander of CFB Suffield during the bi-annual Change of the Command ceremony in front of the army base's headquarters on July 5.
Onieu is familiar with these parts of the province  having  served with the South Alberta Light Horse as the regimental support staff officer in Medicine Hat over a decade ago.
When the opportunity arose to come back to CFB Suffield, it was chance to re-unite with his wife Carolyn and two children Ean and Aurora after being away from them for two years in Ottawa.
"I feel very much at home in southern Alberta," said Onieu.
"About 14 years ago when I last served here, I decided someday, and I wasn't sure how, I would be back in Medicine Hat. The opportunities that you have in Suffield on the base here are simply phenomenal. I enjoy the challenges and there is such a diverse group of activities that go on the base here that when I was offered the opportunity I snapped it up."
He has served four tours on regimental duty in various line and staff positions including a tank troop leader in C squadron, a regimental training officer, an assistant adjutant battle captain and second in command A squadron, B squadron (Leopard) commander and regimental second-in-command.
Now that Onieu has come full circle back to CFB Suffield, he will now have the task of implementing a more community relations approach with the soldiers.
"My focus here is going to be on community relations," said Onieu.
"…We've got a good team to work with and we're going to work at building our stature in the community. We'll also be looking for support from our neighbours as well. Our credibility, it hinges on the population around us, understanding what we do. It breaks down barriers when people have a good understanding of what we're doing. I think it improves the lives of the soldiers when the people know who they are and also allows people to come ask us for help when they need support in their own communities."
Onieu mentioned the elk hunt will be a challenge because he is at the beginning of the understanding of the situation and his hope is to work with other provincial stakeholders who have a hand in the elk herd.
"My plan today is to not change any of the policies until I've had a chance to get on the grounds, look around, get informed by my team  and I may revisit the situation after that," said Onieu.
The relationship with British Army Training Unit Suffield (BATUS) is strong, but will still require work because both the Canadian and British troops share the same situation with budget constraints.
Additionally, when the base reviews are done it usually means budget cuts and when sharing a base there are always ways of looking at minimum costs.
"Sometimes that can be a challenge because BATUS pays a significant amount of money to train to here," said Onieu.
"There's frequently some  friction involved in costing out the activities here and deciding what level is the right one."
Orienu's predecessor  Lt. Col. John Scott said the past two years were an exceptional experience at CFB Suffield because upon arriving at the base he did not think he would have picked up the interesting skill sets  and experiences he was  able to obtain.
His highlights include addressing the elk problem because when he first arrived there was a reduction program put in place.
However, when the first hunt occurred it was the most dangerous activity he had experienced in his military career.
"I really wanted to tweak that so we were getting as many elk off that field through hunting but making it a safe and reproducible activity," said Scott.
" We found after the first year, the National Wildlife area was a place they were all hiding and causing issues for me in terms of species at risk in ther I'm held accountable for and when you have a herd of elk running through the habitat, it's not healthy. We took a leap and opened up the National Wildlife area , much to do with my personal liability but more importantly stretching my troops and civilian staff in because to manage a hunt  in a National Wildlife area takes a lot of work because of some of the natural requirements you have to do to keep track of the critters, the flora and fauna that are so sensitive in there,"
Scott said he feels satisfied leaving CFB Suffield because it is a better place to work now and the people who had input in how business was done.