Burgess wins Beaverbrook Vimy award, heading to Europe for education trip
Posted on July 18, 2017 by 40 Mile Commentator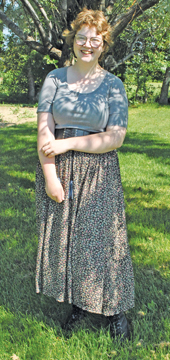 Photo by Jamie Rieger - Madelyn Burgess will be heading to Europe in August after winning the national Beaverbrook Vimy award.
By Jamie Rieger
The excitement is starting to set in for Bow Island's Madelyn Burgess, who will be heading to Europe in August to visit battle sites from World Wars 1 and 2.
Burgess recently won the Beaverbrook Vimy prize, a national award through the Vimy Foundation and will be joining 15 other students on the trip. Fourteen Canadian students are taking part. Burgess and one other are the only two from Alberta. The will be joined by a student from England and one from France.
To apply for the scholarship, youth between the ages of 15-16 were asked to write essays, as well as provide reference letters and motivation letters.
In her essay, Burgess wrote about two influential moments for Canada; the Suez Crisis and the Battle of Medak Pocket.
"The Suez Crisis was a success for Canada, but the Battle of Medak Pocket was a failure and I wrote about how they influenced Canada," she said.
In a following phone interview with the Vimy Foundation, she was asked how I would use what I am learning in my community," said Burgess, who will be giving a presentation at the Bow Island Remembrance Day service, as well as at Senator Gershaw School.
Last week, Burgess was busy preparing two presentations that she will deliver while in Europe.
"One is about a soldier who fought for Canada and the other is about children who lost parents during war," she said. "This is not just a trip; it is a scholarship, education, and ambassador opportunity. They gave me a stack of articles and film that I have to write about. I want to be as informed as I can be before I leave."
The group will visit places such as Vimy Ridge, Beaumont Hamel, Passchendaele, Dieppe, and Juno Beach. They will also attend lectures at Oxford, visit Essex Farm in Belgium where John McCrae wrote In Flanders Fields, sites at Normandy, and the Canadian National Vimy Memorial.
For Burgess, the excitement is starting to set in as the departure date approaches.
"I haven't been to Europe before and have only been on a plane once before, when I went to Ottawa last year," said Burgess who will be traveling with other group members from Canada.
"As soon as we were accepted, a private Facebook page was set up for us, so I am really excited to get to meet them in person," she said.
Through a program called 'Bring our Boys Home', they have to write a biography about a soldier and will visit their grave.
"My grandpa asked if I would visit the grave of my great-great uncle Charlie (Broadbent) from World War 1 and I have found out he is at the Vimy Memorial," she said.
The educational trip takes place August 7-12.