Fire torches 2,900 hectares
Posted on July 18, 2017 by 40 Mile Commentator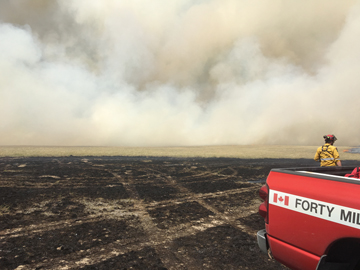 Photo submitted by Kerri Buis - Volunteer firefighters from across southern Alberta helped those in the County of Forty Mile battle several grass fires that were sparked by lightning strikes and fueled by winds over the weekend. 2,900 hectares of grass was torched at the south end of the county.
By Jamie Rieger
Lightning is to blame for causing three fires at the south end of the County of Forty Mile over the weekend.
"Manyberries and Aden responded to two separate fires on Saturday and also a Montana crew came up to fight another one. All caused by lightning strikes," said municipal enforcement officer, Stewart Payne, who attended the scene. "The Montana crew fought it, but that one was difficult to rein in and it re-lit."
With fires burning on both sides of the Milk River, volunteer firefighters from throughout southeast Alberta responded.
"Everybody came out to help; Coutts, Milk River, Montana sent three crews, Foremost, Aden, One Four, and Elkwater. Cypress Hills actually sent a helicopter and crews," said Payne.
Alberta Agriculture and Forestry sent a water bomber and helicopters from Pincher Creek to help extinguish the rapidly moving fire, but initially on Sunday, the winds were too strong to be effective.
"They came back later when the winds had died down somewhat, but it was still difficult for them," he said.
At press time Monday, County of Forty Mile fire chief Dustin McGarry was back at the scene with representatives from Alberta Agriculture and Forestry and was unavailable for comment.
"They're still down there today (Monday) mopping up and today Forestry brought in two more helicopters and 16 men to help," said Payne.
As of Monday morning, approximately 2,900 hectares was burned in total.