Tarnasky retires from the park he called home
Posted on July 18, 2017 by 40 Mile Commentator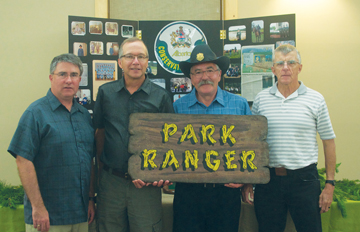 Photo by Justin Seward - Pictured, from left: Alberta Parks chief conservation officer John Findlay, retired conservation officer, Paul Avery, now retired conservation officer O'Brien Tarnasky, and his former colleague Roger Benoit had a great night celebrating Tarnasky's retirement at the Elkwater Community Hall on June 28.
By Justin Seward
Over 100 colleagues and close friends gathered at the Elkwater Community Hall on June 28 to celebrate O'Brien Tarnasky's retirement from being a conservation officer for 42 years.
He spent the last 35 years of his career in Cypress Hills Provincial Park, a place that meant so much to him growing up and gave him inspiration to be a conservation officer before putting the badge and guns away for good in September 2016.
"It felt strange knowing it would be the last time doing this and never use them again," said Tarnasky.
"They brought back memories in training and re-qualifications. The feelings I have on this day were difficult. On Sept. 7, 2016,  I put away my side arm and equipment belt for the last time, such an awkward feeling, which involved a lot of emotions."
Being a Hilda farm boy, his dad used to  take him down to the park as a kid to do some ice fishing and while driving to Reesor Lake it was just before the view point there were elk on both sides of the road.
He said being raised on the farm he was used to seeing antelope and deer but nothing was more impressive than these elk.
Then there was one winter day  where the Reesor Lake Road was not plowed and Tarnasky along with his 78-year-old great uncle and father walked into the lake through deep snow pulling toboggans with their ice fishing gear and would continually see elk and deer.
The park rangers drove up to the trio in a nodwell and were impressed they made the 10 km trek round trip in the deep snow to the lake.
During the summer, Tarnasky would make many trips to his Uncle Ray's house in Elkwater  where they would often go camping in his trailer and fish on Elkwater Lake.
It was years later that the Tarnaskys bought a tent and joined his uncle and  camped in  Elkwater Campground Site #78, which was their favorite spot because it was adjacent to the creek and hearing the songs of the water.
"Elkwater was a great place for kids," said Tarnasky.
"You could come down to the lake  and play in the water, fish off the old dock by the beach and buy ice cream from the concession. Once it got dark, we'd head down to the ampitheatre to watch Walt Disney type movies and have popcorn. All these were great experiences. I would see park rangers in uniform driving through campgrounds and talking to people. Their uniforms impressed me and their green trucks looked so cool."
It was in May 1974,  after attending Lethbridge Community College, he became a conservation officer  and for the next two and a half years he was stationed at six different provincial parks before being offered a permanent position in Lesser Slave Lake Provincial Park in November 1976.
In 1978, Tarnasky was transferred to the west side of the lake to the then new Hilliard's Bay where he looked after an old forestry campground while new park facilities were being built, while in 1980 he transferred to William A. Switzer Park near Hinton.
It was in August 1982 when he got transferred back to his 'dream location'.
"It was close to home," said Tarnasky.
"I was excited to be transferred to the Cypress Hills as it was the largest park besides Kananaskis. This park had the bulk of the cottages and we managed the only townsite in the Alberta Parks system, which included youth and church camps, several businesses, a community hall and a curling rink."
He quite often worked long weekends and his first memory was a graduation class coming in and once darkness came, the party was on and the night became rowdier as the teenagers were mixed in with the family campers and he remembered how the RCMP got involved and teamed up with the conservation officers to clear house in orderly fashion and  by the morning the problem was cleared up.
The opportunity to get up in the morning to see the first flight of elk in the hills was gratifying for Tarnasky because he enjoyed communicating with hunters.
In 1998, he was appointed Elkwater fire chief and ran a fully staffed crew of people who were all from the park, however, the fire department was barely able to function because many park jobs were eliminated due to budget constraints and retirements.
"We had an excellent fire department, members were very dedicated," said Tarnasky.
"We were probably the most trained fire department within the county at that time. The fire department meant a lot to me and I really enjoyed working with all the members. Where else can you experience cutting a vehicle apart or learning how to operate all the elite equipment a fire department may have. I fortunate to have two very exciting jobs as a CO and also the fire chief. There was never a shortage of excitement. I probably responded to 600 calls and probably twice as many call-outs as a conservation officer."
Tarnasky and his wife Marion plan to spend retirement at their acreage in the Crowsnest Pass, while he will continue to be involved with the Venturers Society.