A lucky hand fundraiser for HALO
Posted on July 25, 2017 by 40 Mile Commentator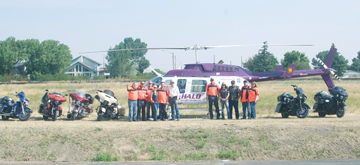 By Justin Seward
Over 200 motorcyclists  started the fourth annual Riders for HALO Fuel Booster Poker Run at the Irvine Hotel with a breakfast  before raising their kick stands and riding out to six locations within southeastern Alberta and southwestern Saskatchewan to play poker and raise funds for the emergency helicopter service on July 22.
The group has raised $23,444 to date and the hope was to make the same amount this year and it helps when the committee is passionate about raising funds to help HALO save lives and raising awareness about the emergency operation.
Riders for HALO president Blair Carriere said many people think this poker rally is for just riders but the committee encourages everyone to come out for a fun day.
"I have so much fun," said Carriere.
"It's a lot of planning. We have 15 committee members and they help out so much and we've also have so many volunteers and helpers that help us. It's getting bigger and bigger every year. I could not do it by myself and I'm glad everybody has come."
HALO is a non-government funded operation that runs a budget of over $935,000 year and relies on donations.
"I meet people everyday that don't know what HALO is," said Carriere.
"I love informing them. Everybody knows somebody that has needed them. We need to raise as much money as we can for the communities."
He  did not rule out the possibility of the poker run being a weekend event in the future.
HALO's executive director  J.D. Gaetan said by the number of bikes out for this year's event it could be the largest fundraiser yet.
"Every dollar counts in our books," said Gaetan.
"We totally rely on groups like this  to support us. It necessary because we don't get government funding. So without fundraisers like this, we don't exist. We are a vital necessity for southern Alberta just because it's rural and there's inaccessible areas."
The hope down the road is to feed off of  Fort McMurray's H.ER.O. service which recently received funding from Alberta Health Services.