New doctor feels welcome in Bow Island
Posted on July 25, 2017 by 40 Mile Commentator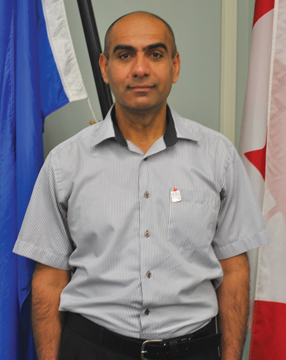 Photo By Jamie Regier Dr. Mohammad Tawfeeq is awaiting his final paperwork so he can start his medical practice in Bow Island.
By Jamie Regier
Bow Island's newest doctor has been busy settling in and getting ready to embark on his career as a medical physician in rural Alberta, something he has been striving for many years.
Dr. Mohammad Tawfeeq spent most of his life in Baghdad  and spent 12 years as a family physician in Iraq before going to Libya with the intention of immigrating to Canada.
"I had a plan to migrate to Canada. In Iraq, it is not easy to migrate to Canada and it took me eight years to legally immigrate," said Tawfeeq, whose first destination was Toronto.
"Toronto is very famous. In Iraq at the time, any information about other areas was very vague. Now, you hear about places like Calgary and British Columbia. It is one of most beautiful cities, very vibrant and alive," he said.
Money was tight when he first arrived here and he had to start over in moving his medical profession forward.
"There were thousands of doctors working in other fields," said Tawfeeq, who at the time, considered giving up on his dream of being a medical doctor in Canada.
"I was living in a basement and it was very hard. I thought it would be a failure. Then, I reconsidered. It would have been a shame to run away after all of the work I had done. There were so many points in this period where I thought of leaving it all behind. But, then I thought, how can I leave these wonderful people and leave Canada?" he said. "I am saying this so people don't give up on something important. It wasn't always pink flowers for me. What if I hadn't passed even one of those exams? It was the support of my family that kept me going. They were all telling me they need me as a doctor and not to give up."
And, his sister was also telling him to pursue his career in a rural setting.
"To be honest, the advice of my father and sister encouraged me to practice in a small town. My sister told me, 'your job as a doctor is to serve people and it is the people in rural areas who need to be served. They are the most decent people and you will feel the satisfaction and gratitude of the people'," he said.
Tawfeeq did a stint in Vulcan before arriving in Bow Island on July 1.
"So, when I came to Bow Island, I found the people to be very welcoming. On Canada Day, I felt alone and overwhelmed, but people came up to me and were warm, supportive, and helpful. They wanted to help me," he said, adding that through help from people in the community, settling in has been quite easy for him.
"Mayor Gordon, Mrs. Anna Marie, Dr. Woodruff, the staff at the hospital; all of them have been very, very supportive. They have made the settlement here very easy. They helped in getting me a beautiful residence close to the hospital and have supplied me with the necessities, so I can work on getting my paperwork done for the College of Physicians," he said, adding that he was in the last few days of finalizing his paperwork last week. "They have helped with so many things that would take months if I was to do it all by myself. And, they have done this so I can concentrate on my job. I am very grateful."
Tawfeeq is expecting to hear this week the results of his final paperwork.
"I have finished all the steps I need to and the recruiter said I should be hearing back (this week) and I plan on getting to work right away after that," he said.
"If you are very persistent in your beliefs, in your goals; you can do anything," he added.