Fire ban in place for Cypress County
Posted on July 28, 2017 by 40 Mile Commentator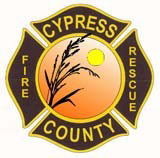 Cypress County fire chief, Kelly Meyer sent out notice on Friday morning that a fire ban is being put in place for the county.
Due to above normal temperatures we are experiencing, the potential for fires to start are at an all time high. The high temperatures combined with winds are curing the fuels to a point where a fire will develop extreme, unmanageable behaviour that could be dangerous to the public as well as firefighters. With no relief in sight from the high temperatures we are forced to implement a FIRE BAN for Cypress County.
Fire Ban
Permitted burning in Cypress County is banned due to dry/windy conditions. All outstanding fire permits are suspended until further notice.
• The following fires are NOT permitted:
• Incinerators (for farm and acreage use)
• Regulated burning barrels
• Solid fuel barbecues (charcoal briquettes)
• Recreational camp fires (approved burn pit 24" in diameter or less)
• Chimeneas
• Fires contained within approved facilities and appliances in designated camping and recreational areas
The following fire are still permitted:
• Internal household fire places
• Liquid fuel barbecues, stoves or fire rings (propane and natural gas)
• Wood pellet smokers
The County of Forty Mile put a fire ban in place on Wednesday.