A true testament to family farming
Posted on August 1, 2017 by 40 Mile Commentator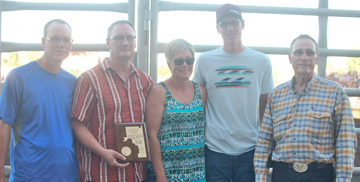 Photo by Justin Seward- Pictured from left: Brandt, Laverne, Launa, Garrett Gill and Cypress County councilor Garry Lentz were on hand for the Cypress County Farm Family of the Year award at the Medicine Hat Exhibition and Stampede rodeo on July 28. Missing from photo: Daughter, Kristen Gill.
By Justin Seward
The annual Cypress County Farm Family of the Year award was handed out to Laverne and Launa Gill of L. Gill Ventures during the Medicine Hat and Exhibition Stampede rodeo on July 28.
The award is handed out every year to the family who demonstrates their involvement in agriculture and in the community with a focus on contributing to the enhancement of the quality of the life as a family.
Since 1987, the Gills have been farming near Veinerville and are Leading Edge producers of using the latest crop science, farm equipment and technology to grow a variety of crops in Cypress County.
"We're honoured to have been chosen to represent Cypress County," said Launa.
Her husband Laverne said with the award in these parts means they are heading in the right direction and doing things right in their farming operation and continue to improve with the movement of agriculture.
He added he would not be able to do without a full family commitment.
"It's a great industry to be in right now," said Laverne
"We work hard together. Everybody does everything. There isn't anything that one of these guys can't do. We try to follow at least some of the most progressive agriculture moves out there and we try to stay the verse. I think that's the key to our success."
It is while farming the family takes a great initiative of monitoring the data that is out there and it is matter of sifting through it and taking what is going to work for them in environmentally friendly way.
The Gill's were also honoured with the 2017 BMO Farm Family Award at the Calgary Stampede.