Tremendous experience representing Team Alberta at Nationals
Posted on August 1, 2017 by 40 Mile Commentator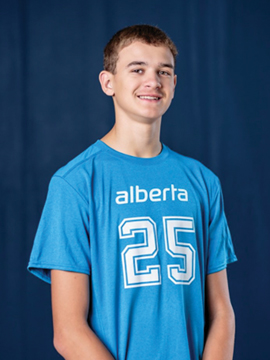 Photo submitted by Karen Byam
By Jamie Rieger
When Chris Byam's volleyball club coaches selected him to test for the provincial U16 team, he did not imagine that it would be a move that would see him compete at the national level in Gatineau, Quebec.
"After the club coaches selected me, I went to Sylvan Lake where 80 players were trying out," said Byam. "Then, they watched us play in three tournaments with me and 30 other guys."
The boys trained together for two weeks and held a two day tournament, with the 30 players on four teams.
That's when the nerves kicked in.
"We had to wait there for two hours for them to decide who would be selected to represent the U16 in Gatineau," he said.
"Five out of six had been picked already, so I was getting nervous, but when I was selected, I was speechless. What a great opportunity to play at the next level."
Once in Gatineau, he and his teammates had one day off, then started practicing.
"Everybody quickly got to know each other. There were kids from Lethbridge, Edmonton, Grand Prairie, Calgary, all over the province," said Byam, who primarly played outside position, but played some left, as well.
The competition was as it was expected…tough, but equal.
"There was no team better than anybody else. Everybody had an equal shot at it," said Byam.
Byam picked up a few added skills while there.
"I learned how to handle myself, both during and after the game," he said, adding he had very good coaches.
While there, Byam and his teammates spent some time touring Ottawa and enjoyed the eveing light show at Parliament Hill.
Byam returned home last Sunday.