Wearing their pride on their parachute
Posted on August 1, 2017 by 40 Mile Commentator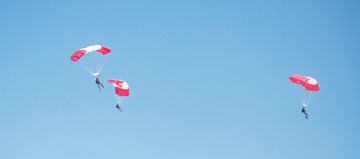 Photo by Justin Seward- Members of the Skyhawks descend onto the Medicine Hat Regional Airport on July 26.
By Justin Seward
The Canadian Armed Forces acrobatic parachute team, the SkyHawks, were doing some test landings before launching into the Medicine Hat Exhibition and Stampede for three shows at the Medicine Hat Regional Airport on July 26.
"Today we're doing what's called tandem jumps," said Capt. John Hart, commander of the SkyHawks.
"We have tandem instructors that can have people who aren't jump-qualified latched on to them and they can come out for a parachute descent with us."
Hart said with their youngest member being 19 for this year's group, that it is not impossible to join but there are certain qualifications that might give certain military members more looks.
"Yes you can be brand new," said Hart.
"In terms of jump requirements, you either have to have a military free-fall qualification or be a Civilian Class A holder for skydiving with 50 jumps. About half the team came from the civilian route, especially the parchute guys that work in Trenton, Ont. We have to have freefall qualifications. In terms of experience, being able to skydive is the first requirement. After that we take in all considerations."
For the 16-member team, the Medicine Hat stop was one of many gigs they do worldwide every summer before doing five weeks of training in California during the winter months.
"Our focus is public relations," said Hart.
"Whether we're in the sky or on the ground, engaging with the public, that's our primary goal and mandate with the Canadian Armed Forces. We want to give the crowd a show."
Spectators of the shows can see them doing various acrobatics in the sky under their signature Canadian flags, which the members call canopy relative work where the brew will fly into each other and contrary to what you learn in skydiving.
"I think you'll find this team exceptionally well bonded and really emphasizes the whole team work mentality," said Hart.