Collision near Dunmore kills nine year-old girl
Posted on August 8, 2017 by 40 Mile Commentator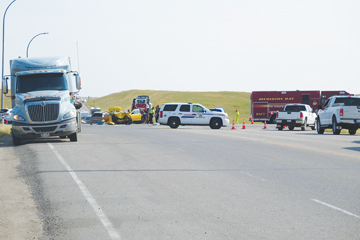 NEWS PHOTO GILLIAN SLADE A serious collision at the intersection of Trans-Canada Highway and Highway 41 took place Monday afternoon.
By Gillian Slade Southern Alberta Newspapers
A serious collision between a semi and a yellow Pontiac Sunfire has resulted in the death of a nine year-old girl.
RCMP confirmed the death Monday evening.
The girl was a passenger in the Sunfire. Two other children in the car, both 12, remain in hospital: One with life-threatening injuries, the other in serious, but stable, condition.
The female driver was listed in serious, but stable, condition.
The driver of the semi-truck was not hurt in the accident.
The collision took place at the intersection of Trans-Canada Highway and Highway 41 on Monday afternoon.
Around 3 p.m. the Medicine Hat Fire Service responded with a fire engine and a rescue unit, said Lance Purcell deputy fire chief. Extrication of those injured in the collision was required.
The semi-truck at the scene appeared to belong to Metal Experts Roofing and Siding, but their Edmonton office declined to confirm that detail.
Other than a load that had shifted on the semi there did not immediately appear to be any other damage to that vehicle.
Westbound traffic on the Trans-Canada Highway was diverted for several hours while RCMP investigators examined the scene.
Traffic heading out of town was diverted in Dunmore onto Eagle Butte Road before continuing on Township Road 120.
Traffic coming into town appeared to be backed up for miles and miles in the direction of Irvine.
Those vehicles were at a virtual standstill because the collision was affecting those lanes of traffic.
The RCMP advised motorists to expect delays while the collision was investigated by a RCMP Collision analyst.
No cause for the fatal collision has been released.
The RCMP were also not releasing the identity of the victims or where they are from.
.