Early harvest not a bad thing in Cypress County, Lentz explained
Posted on August 8, 2017 by 40 Mile Commentator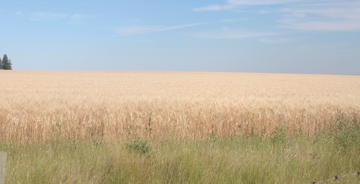 The heat wave that has hit Cypress County this summer has allowed crops to mature at a rapid pace to the point where farmers are harvesting two weeks earlier than normal.
Farmers can be seen taken off winter wheat, field peas, while other crops including spring wheat, lentils and canola will be ready in the weeks to come.
Cypress County's Agricultural Service Board chair Garry Lentz said the early harvest is not much ahead of schedule.
He pointed out the lack of rainfall being the most crucial hurdle that harvest is facing and yields are slightly below average.
To give readers an idea of the lack of moisture in the county, according to Alberta Climate Information Service, Irvine received 39.200 mm of rain while Schuler recorded 32.300 mm since July 1.
"It's nice to be able get harvesting early," said Lentz.
" I think most the crops this year are using most of the moisture down that in the ground in order to produce a crop because of the limited rainfall. It was would've been a lot worse if we wouldn't have the amount of moisture reserves that we did from last fall."
However, despite the minimal rainfall, the crop prices should not be affected.
"Price is determined by supply and demand," said Lentz.
"It depends on what markets are out there and what the outlier companies are tapping in to. I think there were a lot few acres seeded into wheat last year and again this year. That will give us a little better price on wheat because there is a little less out there."
An instance where the price were to go up is if there was a shortage of bushels.
Insects and crop disease are down but the increase in the gopher population has caused dirt mounds and are eating the crops.