Historical park in the works for Redcliff
Posted on August 8, 2017 by 40 Mile Commentator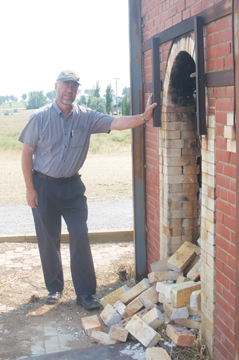 By Justin Seward
The old I-XL Industries Ltd., Brick Plant in Redcliff had closed its steel building down in 2005 and decided to leave the kilns up.
However, it was determined the kilns were not strong enough to hold up and were a part of the demolition last fall, which started Phase One of what now will be a historic park on Mitchell Street to commemorate the brick industry in the town .
"The problem was the old kilns weren't particularly stable," said Malcolm Sissons, president for I-XL Industries Ltd.
"The long term maintenance issue was somewhat challenging and we came up with the idea basically removing most of it but keeping some elements that keep the feeling of the old plant and still leave something for the future."
Now Phase 2 is well underway and there is still jobs left to be done.
"We still have quite a bit to do," said Sissons.
"We have to move the equipment on to the pads, build a back drop to the stage, install the street lights, put up the boards, signage and clean up the parking area."
There will be no water power maintenance in the park, while shale will be surrounded by the native type grasses on the pathway, while three solar powered streetlights will be installed to give the area some illuminated light.
Sissons said to preserve the historical foundations of the kilns, a couple pieces of equipment and the old quarry were important elements for giving people and understanding of where workers were employed in the town for many years.
"For a long time it was a major employer in town and a important part of the community," said Sissons.
"And progressively with time and demand for brick and the lack of modernization in some cases various plants shut down and eventually were demolished. There really was not much left in the mark of history of such an important industry in Redcliff."
The park has seen setbacks with vandalism and structural damage.
An opening ceremony could take place some time later in 2017.