Canadian Foodgrains harvest a success
Posted on August 16, 2017 by 40 Mile Commentator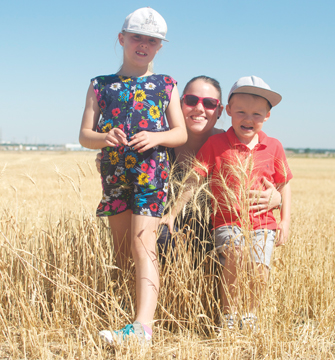 Photo by Justin Seward - Abi, Fiona, and Matt Machin, who were in Canada from England, took in the festivities.
By Justin Seward
A fair number of people joined in on the festivities with the Canadian Foodgrains Bank to celebrate the organization's 20th crop during harvest on Aug. 9.
Kids enjoyed a ride in the combines supplied by New Holland, John Deere and Case while they harvested the wheat on the Canadian Foodgrain Banks field just off of South Boundary Road in Medicine Hat. People could also enjoy talking agricultural while eating a hot dog from Premium Sausage in Seven Persons.
"We're having a terrific harvest," said Charlie Redpath, coordinator for the Canadian Foodgrains Bank.
"It's wheat and it's very high in protein and it weighs good too. It's about 63 lbs. per bushel, 60 lbs is normal."
The Harvest Day is important every year because it shows people what the Canadian Foodgrains Bank are doing during a harvest because when the wheat is cut off then it transported to third world countries.
Redpath said with the combines having monitors that 50 bushels to the acre were being taken off and what allowed them to take a successful crop was because of the lack of rain in the last month and the fields dried up quicker than normal.
Fiona Machin is visiting Medicine Hat with her two children Abi and Matt for the summer from the Midlands area of England and for them the day was new experience because farms across the pond do not compare to the prairies.
"It's interesting because we don't have things this big in England," said Machin.
"It just seems to get done in a blink of an eye, which is amazing. I've seen a combine before (and) seeing how they do all the grain and just finding out where it goes. I think that's new and quite different."
The combines harvested 4600 bushels from the field by the end of the day.