Veteran councilor back for one more kick at the can
Posted on August 16, 2017 by 40 Mile Commentator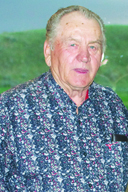 Commentator/Courier File Photo- Cypress County Coun. LeRay Pahl is seeking re-election for another term on council.
By Justin Seward
Cypress County Coun. LeRay Pahl was pondering retirement from politics, but now in his 30th year on council has decided to seek re-election this fall for one more term for Ward 8 (Redcliff/Highway 523 N).
"My wife was pretty adamant that I was going to retire," said Pahl.
"And all of sudden she starts getting some phone calls and people started talking to her. She said 'well if you enjoy it and want run again, go ahead and give it a try.' I was getting phone calls continuously about 'you can't not run again, you got to run at least one more time.'"
The owner of Pahl Livestock is one councilor who wants to discuss topics on both sides of the fence because he wants to make sure issues are fully discussed before a decision is made.
"You make poor decisions if you don't discuss it thoroughly," said Pahl.
"Right or wrong and a lot of times until you discuss it fully right through everything, you just miss some points that maybe you should be discussing."
Pahl's area includes everything north of the Holsom Road, including the other side of the river where there is water access for residences.
His other commitment was to get a water co-op approved for Suffield on that side of the river to get potable water for local residents.
"I didn't get that done, much to my chagrin but if I get re-elected again, we can push that a little bit harder," he said.
Additionally, he would like to see more high-speed Internet brought to the rural people and the Parramatta Water Co-op in terms of what areas receive water.
Pahl said he is not a Ward person because to him if there is something to be done then it should be done.
"Whoever phones me and has a problem I'll try and help with it and if the decision had to be made in (Ward) 1,6 or 8, I'll try to make the best decision," he said.
Now he said Cypress County is one of the more respected counties in the province and is one of the more well off areas because of efficient councils.